'The X-Files' Episode 2: Chris Carter on Why It Was Time for Mulder and Scully Reflect on a Long-Term Loss
Spoiler alert! Do not read further if you haven't watched latest The X-Files episode, "Founder's Mutation."
As The X-Files' second hour, "Founder's Mutation," shed light on horrific testing and genetic manipulation, Mulder (David Duchovny) and Scully (Gillian Anderson) reflected on the still-unknown circumstances around their son's conception.
In the original run of the series, Scully discovered she was barren post-abduction, and that her ova were harvested for genetic experiments. But Mulder found the remaining unfertilized samples, and eventually returned them to Scully. The duo then attempted in vitro fertilization, which failed…but Scully ended up pregnant anyway.
RELATED: Inside The X-Files Revival and the Surprises in Store for Scully and Mulder
Unfortunately, their story didn't have a happy ending: Scully found out she was pregnant right after Mulder was abducted himself. And months after their child was born, Scully had to give him up for adoption, in the hopes of keeping him safe from the people who were out to hurt the entire family.
In "Founder's Mutation," the duo came face-to-face with the horrific impact of the aforementioned genetic manipulation: children who couldn't live normal lives because of various diseases plaguing their bodies.
After meeting a young woman who wanted to keep her baby—despite his possible deformities—Scully confronted Mulder about whether he thought she was "just an incubator" during her pregnancy. Though he tried to downplay it, it led them to have the first serious (on-screen) conversation about their son, William, since the 2008 film, The X-Files: I Want to Believe.
Scully: "Do you ever think about William?"
Mulder: "Yes. Of course I do. But I feel like I've had to put that behind me."
Scully: "He'd be 15 years old now. And I've missed every single year of his life. Sometimes, I hate myself that I didn't have the courage to stand by him."
Mulder: "You did what you did to keep him safe. His adoption is secret, his location is unknown because you had to protect him."
Scully: "Do you believe he was an experiment?"
Mulder: "I don't know."
Scully: "What if he's out there, somewhere, like one of those kids on Sanjay's wall, fighting for his life?"
Mulder: "All we can do, Scully, is pull the thread. See what it unravels."
The mention of William led both his parents to have vivid daydreams about him: Scully saw herself taking him to school, before a normal accident and a possible physical mutation occurred; Mulder saw himself watching TV with William, then setting off a rocket with him before he was abducted.
Speaking about the episode's specific lighting, The X-Files creator Chris Carter said, "[Writer/director] Jim Wong and the director of photography worked really hard to come up with that rich, golden look—though the look changes through the flashbacks. It gets dark, and it's ever-changing because they're daydreams. I thought it was beautifully rendered, and I think Jim is an amazing director. Joel Ransom did a beautiful job, especially with some of the Mulder stuff, with the rocket. It was so golden!"
RELATED: Creator Chris Carter Explains Why the The X-Files Really Came Back
Though Scully and Mulder discussed their son together, Carter said there was never any thought about having the daydreams be anything but solo explorations of the loss. "It was always Scully's private reverie and Mulder's as well," he revealed.
And this won't be the last time William comes up for the partners—his presence also plays a part in the upcoming fourth episode, "Home Again."
Getting to touch on the grief over losing William—who was given up for adoption near the end of the series, which Mulder learned about in the series finale—is one of the benefits of revisiting the story so many years after the show's original run. "It was too fresh [to touch on in the original run]," Carter explained. "They didn't have a lot of time to reflect. I think it was too raw to play these beats. Now, with the passage of time, they ache. But it's funny, both ['Home Again' writer] Glen [Morgan] and Jim seized on this as a story they wanted to incorporate into their larger stories."
The X-Files airs Mondays at 8/7c on Fox.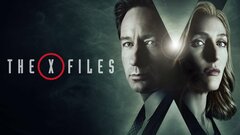 Powered by