'This Is Life Live' Brings Audiences Compelling Moments in Real Time
Grab the tissues! This Is Life Live kicks off on Mother's Day, and this year there's no holding back.
Spanning four nights, the event series spotlights families facing hardships—with the final moments of each episode airing in real time and often resulting in a feel-good shocker.
"We're showing some of the most compelling, dramatic, life-changing events that you will ever see," teases Lisa Joyner, who hosts alongside Chris Jacobs.
The stories include a long-awaited family reunion and a group that sees a major loss replaced. The essential takeaway, Joyner says, is simple. "This Is Life Live brings hope," she says. "I want people to look at their spouses and their kids and hug them. I hope this fosters a connection between people."
This Is Life Live, Season Premiere Sunday, May 13, 9/8c, TLC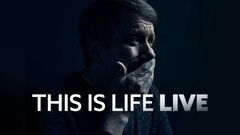 Powered by