'Deception' Sneak Peek: Billy Zane Returns to TV as a Smarmy Gallery Owner (VIDEO)
From art heists to fake game shows gone rogue, ABC's new drama Deception clearly has more than one trick up its sleeve when it comes to mixing magic and FBI cases. Case in point: Our exclusive first look at Sunday's episode, "Masking," featuring none other than Titanic star Billy Zane.
In the sneak peek, Agent Kay Daniels (Ilfenesh Hadera) and Cameron Black (Jack Cutmore-Scott) swing by an art gallery owned by Switch (Zane), a man with a criminal past. They want to see if he'll help them with a stolen stained glass window that was taken from a church.
Luckily, one of Switch's guys was painting a mural nearby and might have the intel they need. That is, if Switch cooperates. After hitting on Kay—a move she deftly eye rolls away from—it seems he'll open up, if he can.
This isn't the first time Zane has popped up on TV in recent years. The actor played notorious circus owner P.T. Barnum in The CW's DC's Legends of Tomorrow earlier this season, and he starred in 2016's quickly-cancelled Freeform drama Guilt. All that aside, we're happy to see Zane gracing our screens again.
Check out the exclusive clip featuring Zane's return below.
Deception, Sundays, 10/9c, ABC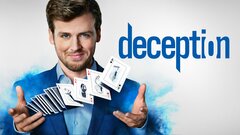 Powered by