Tracy Morgan Hosts the TBS 'Act a Fool' Movie Marathon (VIDEO)
Who better to spend April Fool's Day with than Tracy Morgan?
The 30 Rock star has teamed up with TBS for "Act a Fool With Tracy Morgan," an on-air "stunt" feting the goofy holiday that puts Morgan in the role of guest programmer for the day.
See Also
The funny man returns to TV.
The six-movie marathon features films hand-picked by the comedian, all leading up to the big Star Wars: The Force Awakens showing. That final flick will also include a sneak peak of the SNL alum's new TBS sitcom, The Last OG, so you won't want to miss it!
Scroll down for an exclusive promo for the TV event, which features the following lineup:
9:30 am: Head of State
11:30 am: Death at Funeral
1:30 pm: The Nutty Professor
3:30 pm: The A-Team
6 pm: Get Hard
8 pm: Star Wars: The Force Awakens (Including a two–minute sneak peek of The Last OG!)
The "Act a Fool With Tracy Morgan" Movie Marathon, Sunday, April 1, TBS
The Last OG, Tuesday, April 3, 10:30/9:30c, TBS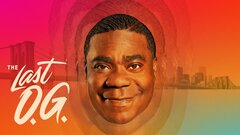 Powered by