Paris Themmen, Original Mike Teavee Actor in 'Willy Wonka,' Appears on 'Jeopardy!'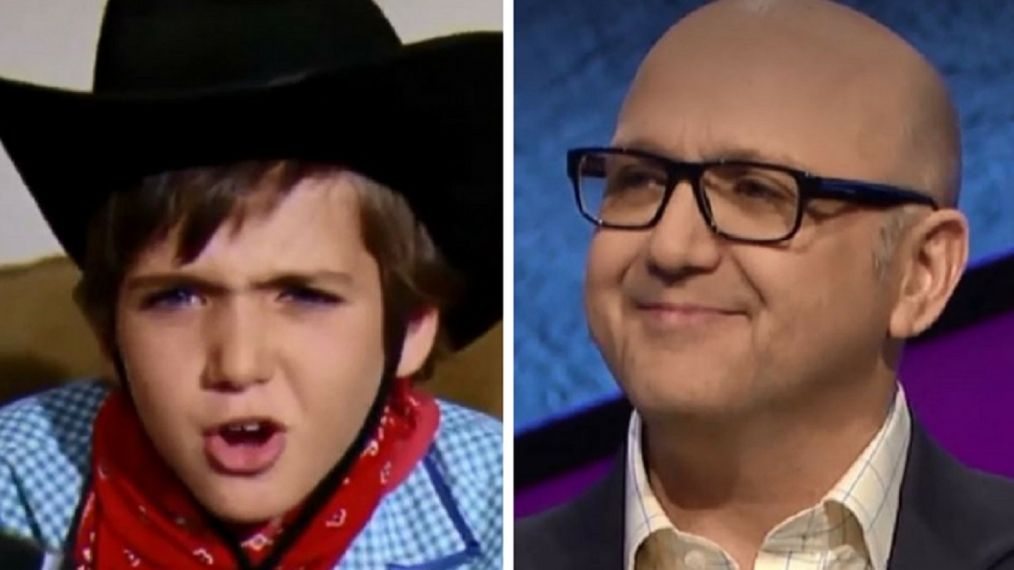 During the March 13 episode of Jeopardy!, a former child actor from a classic film quietly made an appearance as a contestant when Paris Themmen, who played Mike Teavee in the beloved classic Willy Wonka & The Chocolate Factory (1971), competed on the long-running game show. But his historic acting background was not made immediately apparent until some sharp-eyed viewers made the connection.
Instead of revealing his classic movie background in the episode, Themmen seemed to keep his biggest role under wraps when the time came to speak with host Alex Trebek. Rather than tell the audience and viewers about his stint in Willy Wonka's world, he opted for a story about backpacking, saying that he's traveled and backpacked on six of the seven continents.
Although Themmen didn't acknowledge his candy-filled past, viewers were quick to point out his identity as the TV-obsessed, cowboy-dressing kid from the film that starred Gene Wilder in the title role.
Themmen hasn't made any acting appearances since 2000, when he had a small one-episode role in Star Trek: Voyager. Since then, Themmen has appeared as himself in multiple baking competition shows as an honorary judge, most recently on Cake Wars during a Willy Wonka-themed battle.
What fans might not know though, is that Themmen's wife, Nikki Grillos, was a two-day champion on Jeopardy! in 2015, making them a super-smart duo. Despite putting in a strong effort, Themmen landed in second place with a total score of $6,800—he took home the allotted prize of $2 thousand.
As expected, fans and viewers happily took to social media to share their glee over seeing the old child actor, with some expressing annoyance over the fact that Themmen hadn't mentioned his Willy Wonka role as his interesting fact.
Either way, it was certainly an exciting moment for viewers and fans. See some of the best reactions below.
WBZ interrupted the opening of Jeopardy! so I didn't get his name until Alex Trebek repeated it – it's @ParisThemmen, Mike Teevee from Willy Wonka! pic.twitter.com/NNPUQ09hV0

— Tim Colby (@timjcolby) March 13, 2018
Wait, did @Jeopardy not mention that contestant @ParisThemmen was in "Willy Wonka," or did I miss it? It's not every day that Mike Teevee is on TV! #Jeopardy

— Jonathan Padget (@dcjpad) March 14, 2018
Also, @ParisThemmen why talk about backpacking? Why wouldn't you mention that when you were 11, you got invited to a chocolate factory in Germany and got split up in a million pieces then shrunk down to the size of a chocolate bar. Total missed opportunity if you ask me.

— Wildbill (@wildbill77) March 13, 2018
Why wouldn't Paris Themmen mention those most amazing fact he had about himself:

He played Mike Teavee in Willy Wonka & the Chocolate Factory #Jeopardy #WillyWonka pic.twitter.com/CVeZ4cx7rV

— JeopardyBlindGuesser (@JeopardyGuesser) March 13, 2018
On Tuesday, Paris Themmen (who played Mike Teevee in Willy Wonka and the Chocolate Factory) finally made it onto TV. I love that he was introduced as an entrepreneur and avid backpacker who revealed he's traveled to 61 countries and never mentioned his role in the movie #jeopardy pic.twitter.com/1gMuTjHQQF

— Scott Marks (@bizarchive) March 15, 2018
Jeopardy!, Weekdays, CBS