'Marcia Clark Investigates The First 48': Former O.J. Prosecutor Tackles Famous Cases With Iffy Endings
Can't stop thinking about the Casey Anthony murder trial and its deeply unsettling outcome? Or whether missing young Illinois mom Stacy Peterson, whose corrupt-cop husband Drew is imprisoned for killing her predecessor, died at Drew's hand, too? Marcia Clark knows just how you feel.
In her new seven-part A&E series Marcia Clark Investigates the First 48, Clark—best known as the lead prosecutor in O.J. Simpson's murder trial—and her team revisit famous murder cases and mysteries with disquieting conclusions, using the first two days of the original investigations as a foundation to re-examine the probes, players and evidence, and follow up on key details and witnesses initial investigators overlooked.
"It's a mission, not just a show," says the chic, companionable Clark, who proudly labels herself a "true-crime addict."
"We are here to show what truth there is about the case that no one knew before, and to prove who did it and who didn't do it. It's about justice — an active show and an active reinvestigation to make the right thing happen … so that we can actually have an impact."
Each episode clocks in at a surprisingly fast-paced two hours, allowing Clark to present viewers with a jaw-dropping array of new information that is by turns infuriating and cathartic.
In Stacy Peterson's case, Clark reveals the 23-year-old's desperation, the startling information she confided in her pastor, and heartbreaking revelations by Drew's stepbrother and a member of the crew that dragged the waterway thought to be Stacy's final resting place.
Clark says she experienced goose-bump moments in every case her team took on.
Regarding Casey Anthony, "the computer search for 'foolproof suffocation' and the fact that it was most likely her, because the person who did the search was also the one who deleted the history, proves quite a few things actually," Clark says.
"The defense in that case was that she was partying for 30 days after the baby disappeared because she was disassociated, she was in a never-never land, she was in this weird mental state. Well, she couldn't have been in that weird of a mental state if she'd remembered she searched for foolproof suffocation and had the presence of mind to then delete that history when the police started sniffing around. All kinds of 'Wow' moments!"
So even if Clark can't retry the cases, she can give the public what she hopes is peace of mind—and folks whose knowledge about a case was never truly heard their due.
"Knowledge is power, and the ability to see the truth as its own end and see through misinformation and rumor and the sort of thing that floats around a case is important," Clark says. "We may not necessarily be able to reopen them, but there will be a way in which everybody feels that they have been informed better about each case and the truth of it."
Clark is also at work on her upcoming ABC drama The Fix, about a disenfranchised prosecutor who leaves the profession for Montana ranch life after a Hollywood double-murder case goes foul, only to be drawn back when the guy may have killed again.
"It's a legal, soapy, legal thriller. Lots of fun," she says with a smile. And though the story might sound, well, just a tad familiar, Clark is adamant that neither the tale, nor the characters are "ripped from the headlines."
"No, no, no, no, no," Clark grins. "Living next to a writer is a terrible thing, because you're bound to see your experiences in something somewhere. But you will never recognize anyone. That's not fair. That's not nice. You won't have very many friends left, because no one wants to hang with you.
"Everything in my life finds a way into my books, into the script—there's no question about that. I just make sure I bury it well enough."
What Clark will never hide is the joy she feels when women approach her to share how she impacted their lives.
"I never thought of myself as a role model in any way, shape, or form, before or after the trial," Clark says. "When women came up to me to say, 'Because of you, I went on to be a lawyer,' or 'Because of you, I left an abusive husband,' each time it was breathtaking for me.
"I love seeing the way women pick themselves up and move on and get things done and overcome in ways that are just truly awe inspiring. To have them tell me I played a part in that is an incredibly humbling and moving experience. It's hard for me to believe."
Marcia Clark Investigates The First 48 premieres Thursday, March 29, at 9/8c on A&E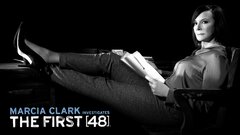 Powered by