'Gotham' Season 4 Returns: Check out Gordon's Secret 'Stache!
Gotham is back tonight with a crazy midseason premiere, but if you think Jim (Ben McKenzie) has problems—DC Comics villain the Toymaker, a super awkward Lee (Morena Baccarin) reunion, the newly-toxic Poison Ivy (Peyton List)—just wait.
Things are even wilder for the Gotham City stalwart next week. In fact, they are getting downright hairy. That's right, the mustache so many Batman fans know from the comic books, movies, and video games is making its first appearance on the top lip of Ben McKenzie, and we gotta say, A) that lucky mustache, and B) it sort of works.
See Also
Will Penguin join him or die?
In the March 8 hour, "A Beautiful Darkness," Ivy continues to spread her special brand of fatal attraction, which leads to a handful of really flowery deaths and a fantastical hallucination for Bruce Wayne (David Mazouz).
Under Ivy's herbal spell, the whacked-out billionaire imagines a nightmarish scenario that involves: Ra's al Ghul (Alexander Siddig), a mighty sexy turn for Alfred (Sean Pertwee), and an older, Gomez Addams-ish Gordon enjoying the company of Flapper Babs (Erin Richards)—all at the kind of Jazz Age party one only sees while tripping.
Young Master Wayne also finds himself sharing an alleyway exchange with a certain vigilante we haven't seen on the show so far and it's pretty much as batty as it can get (hint, hint).
Without spoiling how everything shakes out, it's safe to say that the whole experience is clearly setting the stage for Bruce's next step toward Dark Knightdom… if he can recover from Ivy's mind-bending potion. As Jim points out (after hearing that his future self may end up sporting the unfortunate facial hair of '70s porn stars), "It's clearly a very dangerous toxin."
Gotham, Thursdays, 8/7c, Fox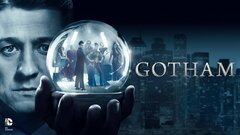 Gotham
where to stream
Powered by