'Star Trek: Discovery': Where Will Season 2 Pick Up?
[Spoiler Alert: Do not keep reading if you have not seen the Season One finale of Star Trek: Discovery!]
Star Trek: Discovery aired its Season 1 finale Feb. 11 and left fans with a laundry-list of questions that will hopefully be answered in the upcoming second season—though it's not due until 2019.
One answer we do have comes via Trek executive producer and co-creator Alex Kurtzman. The showrunner tells Entertainment Weekly that, even though the Enterprise has entered the picture, Season 2 will still very much be about the USS Discovery.
"The arrival of the Enterprise suggests they're going to begin to get answers," Kurtzman says. "Those answers will not come immediately, they will trickle out over the course of the season"
In the season finale, fans also saw that the Klingon War has ended. But Kurtzman ensures we'll still see Klingons in the next season—and we'll see Michael Burnham (Sonequa Martin-Green) get her Commander ranking.
In addition to Burnham, much of the Discovery's crew will also return. Fans will see Saru (Doug Jones), Paul Stamets (Anthony Rapp), Sylvia Yilly (Mary Wiseman). But who else?
It's highly possible that Mirror Universe Philippa Georgiou (Michelle Yeoh) and Mirror Universe Gabriel Lorca (Jason Isaacs) will return, even though Lorca was attacked and thrown into the ship's reactor by Georgiou after his failed attempt at a coup.
One of the finale's biggest twists? Probably Lieutenant Ash Tyler/Voq (Shazad Latif), who left with L'Rell in order to help the Klingon houses potentially unite against the Federation in the near future.
Kurtzman explains,"Season 1 was about the Klingons and the Federation at a time of war. Season 2 will not be about that. We want to move on. Tyler/Voq has had a major evolution over the course of the season, and we love Shazad. He's capable of absolutely everything we throw at him, and we have great plans for his character in Season 2."
Star Trek: Discovery, Season One available, CBS All Access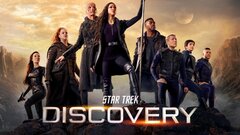 Powered by