Morning News Meltdown: What's Next for These A.M. Institutions?
News. Weather. HUMAN interest. When people watch Today, they have a pretty solid sense of what they're going to get. But viewers who tuned in on November 29 were in for an unsettling surprise.
As the broadcast kicked off at 7am from Studio 1A in New York City, a clearly distraught Savannah Guthrie sat beside colleague Hoda Kotb…not her usual coanchor, Matt Lauer. Struggling to stay composed, Guthrie began reading a memo that NBC News Chairman Andy Lack had sent to staffers just moments earlier.
"We received a detailed complaint…about inappropriate sexual behavior in the workplace by Matt Lauer," Guthrie relayed. "As a result, we've decided to terminate his employment."
TROUBLED TIMES
The marquee journalist's sudden ouster after two decades may have been jaw-dropping, but it wasn't the only bombshell of its kind to rock the morning landscape. Just eight days before, veteran newsman Charlie Rose, who had anchored CBS This Morning since its debut nearly six years ago, was fired on the heels of eight women making reports about his behavior. (PBS, where Rose had an eponymous talk show, also severed ties.)
As an unprecedented amount of harass-ment allegations sweep through the media industry, repercussions—even those that affect the fate of a crown jewel like Today—are swift, and can be seen instantly on the screen. "Companies have adopted a zero-tolerance policy," media analyst Bill Carroll explains. "If there's an indication of bad behavior, you're over."
BREAKING NEWS
Unlike the scripted series that have landed in a similar predicament—where networks have the option to simply pull the plug (see sidebar, page 4)—the morning shows must go on, even as they become the story. They are, after all, an integral component of the schedule—and huge moneymakers. A report by Kantar Media estimates that Today raked in a staggering $508 million in revenue for NBC last year, while CBS This Morning made roughly $177 million.
Considering those numbers, NBC and CBS desperately need to retain their audiences, which is easier said than done. The biggest challenge, naturally, is re-creating the rapport that the former hosts had with their respective coanchors. "Morning shows are all about easing the audience into their day," Jon Klein, a former president of CNN, noted to Bloomberg. "A good, smooth chemistry…is essential. Now the chemistry is disrupted." But generating the kind of magic that Lauer shared with Guthrie and Rose
enjoyed with Gayle King and Norah O'Donnell is no small task. "Will you really be able to replicate that?" Carroll wonders.
See Also
The journalist was accused of sexual misconduct by a colleague.
HELP WANTED
They'll certainly have to try. For the first three days of Lauer's absence, 10am host Kotb took Lauer's place—a smart move toward making the audience feel more at ease during a tumultuous time. Even so, she may not be the frontrunner for the permanent spot, according to Brian Stelter, host of CNN's Reliable Sources and author of Top of the Morning.
On his November 29 blog, Stelter posted that NBC News correspondent Craig Melvin and Willie Geist, coanchor of MSNBC's Morning Joe and host of Sunday Today With Willie Geist, "are the first two names that come to my mind" to fill Lauer's chair. Carroll agrees. "Both have been groomed as possible replacements," he says. "Willie is perceived more as a 'personality' and Craig is more of a newsperson, so it depends on the direction they want to take."
Other, less likely scenarios? Stelter wonders if a "trio" of hosts—Guthrie, Kotb and another addition—would work. And there's been speculation that NBC could shift Megyn Kelly from her 9am spot or even bring back Tamron Hall or Ann Curry to sit with Guthrie.
While anything is possible, those options would be a departure from NBC's tried-and-true formula. "Today has always been a [traditional] family: mom, dad, a kid and the crazy uncle" Carroll says. (That'd be the anchors, the newsreader and Al Roker, respectively.) "I assume they are likely to stay with that."
Over at CBS This Morning, Vladimir Duthiers, an Emmy- and Peabody-winning journalist, has been filling in since Rose left the building, and he's reportedly in the lead for the gig. Anthony Mason, the host of CBS's Saturday-morning news show, has the requisite chops as well. "He's a more established personality. The gravitas is there," Carroll notes. "Obviously, right now, they're going with Vlad. He's younger and could anchor for years to come."
The one luxury that CBS This Morning has is that it's not built entirely around personalities indulging in occasional silliness. (Translation: You won't find King or O'Donnell dressing up as the Kardashians on Halloween.) Because of that, there's more leeway in choosing a replacement. "People who watch enjoy the hosts' interaction," Carroll confirms, "but it's news-driven."
THE ROAD AHEAD
Regardless of how it all shakes out, both programs have a proven track record of weathering changes and past crises. (Remember Curry's uncomfortable exit in 2012 and the backlash that followed?) "The shows survive because they're institutions," says Carroll. "Will the Today show or CBS This Morning be around in years to come? Of course."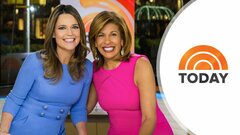 Today
where to stream
Powered by