Ashley Graham Offers a Peek Inside 'The 66th Miss Universe Competition'
On Sunday, Nov. 26, the world will tune in as 92 beautiful women from around the world compete for the title of Miss Universe. But the competition's gorgeous contestants aren't the only strong women shining on Sunday, as model and body activist Ashley Graham returns as the broadcast's backstage host.
The confident celeb shared her excitement for the event that showcases the beauty of the world's women — inside and out — with TV Insider.
Ashley, what do you love about the Miss Universe Competition?
Ashley Graham: The competition is a great platform for women to highlight their accomplishments and ambitions in life. All of the contestants motivate each other and build one another up during their time together and leading up to the event. Participating in the competitions allows so many women around the world to meet someone from each country, learn about their cultures, and grow personally in the process.
Last year, when you served as the competition's backstage host, what kind of fun, backstage antics did you witness?
Between the number of contestants, gowns, hair- and makeup-artists running around to get everyone ready, producers, stage managers and also some bystanders, there is just so much that happens behind-the-scenes! There are always the last-minute touchups and yes, even dresses that may have to be sewn together at the very last minute as the contestants walk on stage. There are happy and sad tears of course, but the excitement is contagious across the board. You can feel everyone's anticipation – and not just the contestants' – as they walk onto that stage. That feeling is felt throughout the entire venue!
Which of this year's contestants have caught your eye as frontrunners to follow in the footsteps of Miss Universe, Iris Mittenaere?
It's truly impossible to pinpoint a favorite among these incredible and diverse women, but I am so excited to see what all of the women bring to the stage this Sunday.
The Miss Universe Competition has many elements (including stunning national costumes, gorgeous swimsuits, sparkling evening gowns, a thought-provoking Q&A portion and, of course, crowning). Which part of the night do you most look forward to?
The amount of color, texture and thought that goes into each one of their national costumes is amazing to me. I look forward to the outfits every year but honestly, the most exciting and emotional part of this journey is the moment that next Miss Universe is crowned. These women have done so much to prepare for this competition and be here to represent their countries. Some of these women may have never even left their home countries so the experience to compete on stage and have their moment to shine makes it all worthwhile to see.
See Also
Julianne Hough talks to us about executive producing and hosting this year's Miss USA 2017 competition, and her new tour 'MOVE-Beyond.'
About The Broadcast
Steve Harvey returns as host of the Fox broadcast, which will also feature performances by singers Fergie and Rachel Platten.
Ross Mathews, Lele Pons, Jay Manuel, Megan Olivi and former Miss Universes Pia Wurtzbach and Wendy Fitzwilliam will serve as the competition's panel of judges. Fashion expert and raconteur Carson Kressley and supermodel/pageant expert Lu Sierra will provide analysis and commentary throughout the telecast.
The 66th Miss Universe Competition, Sunday, Nov. 26, Live at 7/6c (tape-delayed PT), Fox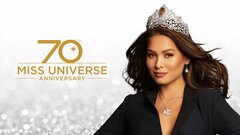 Powered by