'The Lost Tapes: Patty Hearst' Revisits One of History's Most Bizarre Cases (VIDEO)
Smithsonian Channel's The Lost Tapes series has looked deep into Pearl Harbor, the L.A. riots and Son of Sam, and it now takes on the infamous story that riveted the world over 40 years ago—the controversial story of heiress Patty Hearst.
To refresh your memory, publishing magnate William Randolph Hearst's 19-year old granddaughter Patty Hearst was kidnapped from her Berkeley, California, home in February, 1974. Taken by the Symbionese Liberation Army (SLA), an urban guerrilla group, Hearst eventually revealed that she had joined the group, renouncing her family, fiancé and her own name and said that her new name was Tania. Truth is definitely stranger than fiction, right?
See Also
A look at some of the incredible true-life stories available on various streaming outlets.
The documentary goes even deeper into this bizarre tale that lasted for 19 months and saw Hearst go from kidnapping victim to fugitive after she aided in robbing a bank with members of the SLA. One of many questions asked about the ordeal is, was Hearst brainwashed or an active participant?
The Lost Tapes: Patty Hearst includes the communications of Patty and other SLA members, rare news coverage, on-the-ground footage of the massive LAPD shootout with the SLA and portions from CBS's special, Patty Hearst: Her Story from a 1976 interview with Hearst.
In this exclusive clip from The Lost Tapes, news footage of the aforementioned shootout is detailed here:
The Lost Tapes: Patty Hearst premieres Sunday, November 26, 9/8c, Smithsonian Channel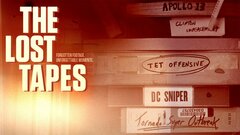 Powered by