What's On: Merge on 'Survivor,' CMA Awards, 'A Word' Returns
A critical checklist of notable Wednesday TV:
Survivor (8/7c, CBS): The dynamics should get really interesting—and it would be about time—as the tribes finally merge. Which means a feast for all before they begin feasting on each other. First question: Will weaselly Ryan regret not ousting strong-but-silent JP when he had a chance? Individual immunity is now up for grabs, and much depends on whether brains or brawn will be rewarded.
The 51st Annual CMA Awards (8/7c, ABC): Though it sometimes feels like there's a country-music awards show every other week, the CMA celebration is arguably the industry's biggest event. For the 10th consecutive year, Carrie Underwood and Brad Paisley share hosting duties, while an unusually eclectic group of performers takes the Bridgestone Arena stage. Among the headliners: Pink, a cross-genre duet featuring Maren Morris and Niall Horan, a multigenerational pairing of Reba McEntire and Kelsea Ballerini, and an opening number showcasing Keith Urban, Lady Antebellum, Eric Church, Darius Rucker and more. Along the way, some awards are expected to be handed out.
The A Word (10/9c, SundanceTV): Funny and poignant, this lovely British family drama returns for a second season, picking up two years later, with autistic son Joe (Max Vento) now 7 and beginning to realize he doesn't always fit in but not quite understanding why. When Joe utters "the 'A' word" for the first time, parents Paul (Lee Ingleby) and Alison (Morven Christie) step up to help him try to make sense of his place in their special world.
Inside Wednesday TV: Executive produced by sports journalist Hannah Storm, the Epix documentary Danica (8/7c) follows race-car driver Danica Patrick through turbulent professional and personal times. … Don't expect harmony on Fox's Empire when Hakeem (Bryshere "Yazz" Gray) squares off against Anika (Grace Byers) in a custody battle for Bella. … CNBC takes viewers inside The Job Interview (10/9c) in a new observational series in which employers sit down with prospective hires, only one of whom will get an offer. The series opens with back-to-back episodes. … Is Jimmy (Chris Geere) due for a win on FXX's You're the Worst (10/9c)? In hopes of restoring some literary cred to his reputation, he competes on an NPR game show.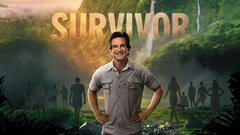 Powered by