WATCH: Can Ray's Team-Building Talk Inspire the 'Legends of Tomorrow'?
Tony Robbins, he ain't.
In Tuesday's Legends of Tomorrow, Ray (Brandon Routh) takes a page from his own past as a corporate mogul to talk the gang into attempting some team-building exercises. With Zari (Tala Ashe) now in the mix, he thinks it's a good idea that they all bond. Unfortunately, he's the only one who thinks that, so we can't blame him for pulling a vanishing act on the reluctant semi-heroes. Literally.
And that is just the beginning of the fun. From there, the hour—entitled "Phone Home"—zooms back to the '80s (as seen in the photo above) in search of a pre-teen Palmer (think Young Sheldon), whose Halloween plans may fly out the window once they get wind of the kid's new pet: a baby Dominator. Combining everything from E.T. to Stranger Things to Back to the Future, the Ray-centric episode explains how his childhood formed and allows Routh to further establish his super-likable character as the team's moral center.
Check out Ray's talk to the gang in this exclusive clip from the episode. And pay close attention to Zari's take on everyone in the video; some of that stuff is going to be very important as the season progresses.
Legends of Tomorrow, Tuesdays, 9/8c, The CW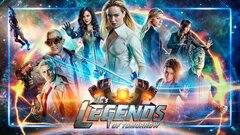 Powered by