New Viceland Channel Expands Program Slate, Developing Ben Stiller Musical Comedy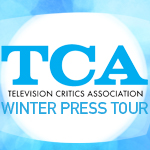 As it prepares to launch next month, Vice's new cable channel Viceland continues to expand its programming slate, including a new comedy series in development from Ben Stiller.
Stiller's Red Hour Films is working on a sketch comedy/musical hybrid, Viceland creative director Spike Jonze revealed Wednesday. The show's pilot, which comes from an idea the Viceland team generated six months ago, is expected to shoot in March. Jonze tapped Red Hour to develop the idea because of Stiller's comedy production experience.
Viceland premieres Feb. 29, and will debut original content on Tuesday, Wednesday and Thursday nights. "We're making everything based on what feels right and what's needed to tell stories," says Jonze, explaining that every series has a different episodic order and length.
Jonze introduced the channel to reporters at Viceland's portion of the Television Critics Association press tour on Wednesday in Pasadena.
Viceland will target a Millennial audience that has been fleeing traditional TV for digital platforms. Jonze says Vice nonetheless wanted to launch a linear cable network because " for us, as a company to get this kind of production budget can still only be done in TV. To give that budget to creators, it's an amazing opportunity for us as a company. The idea of a TV channel seems like a fun medium to explore. This living thing comes into your house like water. We're trying to make this organism that's alive."
Viceland programming will still be available on other platforms, he added. "They'll live on our website, iTunes, Netflix, Hulu. Specifically I don't know where these ones will end up, but there will be pieces on Snapchat. However you absorb content we will have something to say."
RELATED: More Scoop From the Television Critics Association
HBO continues to air Vice News documentaries, and will launch a new half-hour daily Vice newscast this year. Jonze says Viceland will exist separate of that.
"Taking the pressure of us not being a news channel gives us a lot of liberty," he says. "We don't have to be timely in that way. We can be completely subjective, not objective journalists. It's not journalism, its immersive personal storytelling."
Most of Viceland's first round of new series were generated and produced in-house. Among the inaugural slate: Gaycation, featuring Ellen Page and Ian Daniel as the explore LGBTQ communities across the world; Huang's World, starring celebrity chef Eddie Huang; and F— That's Delicious, hosted by cook and rapper Action Bronson. Also: Actor Michael K. Williams is behind Black Market, which explores underground and illicit economies.
RELATED: Eddie Huang Is Finally Okay With Fresh Off the Boat
"It's people we admire, that have a point of view of the world and something they want to explore and something we believe in," Jonze says. As for his own career, Jonze says his directing career (Being John Malkovich, Her) is on hold as he builds Viceland.
"Right now this is all I've been doing for the last year," he says. "It's a different type of film for me, making a channel and working with artists."