'The Family': When a Kidnapped Son Returns Home Years Later (or Does He?)
In The Family, a thriller from writer/producer Jenna Bans (Scandal, Grey's Anatomy), accused pedophile Hank (Andrew McCarthy) confesses to abducting 8-year-old Adam Warren in the town of Red Pines, Maine. A decade later, a disoriented teen (Liam James) shows up at the local police station claiming to be Adam. Is he the presumed-dead son of the current mayor, Claire Warren (Joan Allen)? Why did Hank confess, and who is the real kidnapper? Did everyone give up the search for Adam too soon?
RELATED: More New Shows Premiering in Winter
The hated Hank is quickly released from jail, while Det. Nina Meyer (Margot Bingham)—the cop whose career took off after she closed the case—has to deal with guilt over putting away the wrong person. But Adam's return really takes a toll on his loved ones, who are grappling with the fact that this confused young man is the older version of the beloved child they lost.
"The show takes place today and flashes back 10 years in the past to find out exactly what happened on the day Adam disappeared," says the Oscar-nominated Allen. "We can expect lots of twists and sex and suspense."
Meet the members of the Warren clan (from left to right, pictured above).
Danny Warren (Zach Gilford)
Who he is: The unemployed and adrift eldest son who was supposed to be watching his kid brother.
Where he was when Adam went missing: Making out with a high school conquest. "He feels a tiny bit responsible, but to deflect from that, he blames it on his parents for putting him in charge," says Gilford.
Family ties: Danny retreated from his folks after Adam's disappearance and started drinking. "He resents the lack of attention his family has given him since Adam's disappearance," Gilford says.
Is it really Adam? "Danny doesn't believe that the boy is actually Adam. Once his initial attempts to prove it are thwarted, he gives up," Gilford says.
Adam Warren (Liam James)
Who he is: He insists he's Adam and that he recently escaped captivity. "He's a bit eerie, but kind," James says. "He'll soon change in a lot of ways."
What happened to him: "He was abused," James reveals. "You can see the scars on his body and the trauma that's affected him mentally."
Is he really Adam? James isn't telling.
Family ties: Adam wants to be accepted and tries to bond with them.
Willa Warren (Alison Pill)
Who she is: Claire and John's daughter is the chief of staff for her mother's political campaign.
Where she was when Adam went missing: She and Danny were in charge of keeping an eye on him, but she had something else to do that could later haunt her.
Family ties: Willa desperately wants to put her family back together. "Watching her family unravel has led her to the church and to prayer," says the Newsroom vet. "She's now a devout Catholic with a constant inner struggle."
Claire Warren (Joan Allen)
Who she is: A soccer mom turned politico. After Adam's disappearance, she became mayor and is now running for governor of Maine on a family-values platform. "The trauma of the kidnapping turned her into an activist. She's very ambitious and dedicated," Allen says.
Where she was when Adam went missing: At a "Meet the Candidates" function in a park; her children ran off to get ice cream, and the abduction occurred soon after.
Family ties: Her marriage has struggled as she and husband John have tried to process the loss of their child.
Is it really Adam? "If you'd been held in a bunker for years, physically and sexually abused, you're not going to be the same person," says the actress, currently starring in the similarly themed film Room. "You are going to be deeply changed [even if you are the same person]."
John Warren (Rupert Graves)
Who he is: Married to Claire and the father of their three children, he was formerly in real estate insurance, but after losing Adam, he became an author who wrote about dealing with grief.
Where he was when Adam went missing: "Having extramarital sex," says the Sherlock vet. He has suffered depression and guilt ever since.
Family ties: "His feelings toward Claire have ranged from blame to hatred to admiration to need," Graves says. "His relationships with his other two children have been harmed by his [emotional] distance."
Is it really Adam? "He absolutely believes the boy is his son and his return is a gift from the gods," Graves teases.
The Family, Series premiere, Sunday, March 6, 9/8c, ABC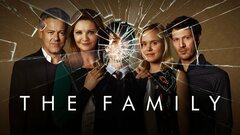 Powered by