Kevin James Finally Explains Why 'Kevin Can Wait' Killed Off Wife
Prior to Kevin Can Wait's second season, CBS announced actress Erinn Hayes would not be returning as Donna Gable, wife of Kevin Gable (Kevin James), on the CBS comedy. Instead, Leah Remini, who famously played James' wife on the much loved The King of Queens, would be cast in a full-time role as the show's lead.
The reason for Hayes' sudden departure remained a mystery until now. In an interview with New York Daily News, James revealed, "The plot of the show didn't have enough drive. If we got through a second season, I wouldn't see us getting through a third one. We were literally just running out of ideas."
The 52-year-old actor explained, "I get that people are like 'Whoa, why would you do this?' But it really felt like a thing like this was needed for this show to drive forward."
James also said he's unsure if his Donna's death will be explained further since the sitcom is supposed to be a lighthearted comedy.
Meanwhile, Remini's role will grow larger. She plays Vanessa Cellucci, his former police force partner, and they have the same kind of chemistry that made The King of Queens a success.
"I've worked with other leading men after Kevin, but there's something very special that you just can't kind of explain when something works with somebody," Remini said.
Kevin Can Wait, Mondays, 9/8c, CBS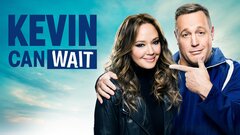 Powered by