'Pit Bulls and Parolees' Holiday Special Hopes to Cheer Up a Sad Dog (VIDEO)
pwrXZCpv
What's Christmas without some adorable dogs? To bring some glad tidings your way, Animal Planet is launching 19 days of "Wild Winter Nights" holiday-themed episodes.
The full line-up will include The Last Alaskans, Tanked, Treehouse Masters, Monsters Inside Me, Dr. Jeff: Rocky Mountain Vet and Dr. Dee: Alaska Vet, along with the popular Pit Bulls and Parolees holiday special will focus on a sad and shy pit bull with a broken spirit. After being rescued, the pit bull showed some signs of improving at Villalobos Rescue Center, but he's now become an Ebenezer during the holidays.
RELATED: (Photos) 24 Best-Loved Family Dogs on TV
Thankfully, parolee Matt is in a merry mood and eager to help the pit bull rediscover his spark. "Christmas is like a time where you actually celebrate being alive," Matt says. "I wake up every morning, feeling pretty good. I'm excited. I feel like I've got the Christmas spirit. I can feel it in my toes." Hopefully, Matt's excitement will help the pit bull be happy and healthy, so his chances for adoption can improve.
Also happening on the episode: Tia, the rescue center's leader, plans to surprise her family, the parolees and the dogs with something special, and a parolee makes up for lost time by pulling together a Christmas dinner.
Watch the exclusive clip above to hear more about the pit bull and parolee's stories.
Pit Bulls and Parolees, Holiday special, Saturday, Dec. 19, 9/8c, Animal Planet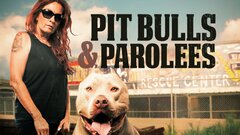 Powered by