'Haven' Series Finale: Showrunners Explain Each Character's True Fate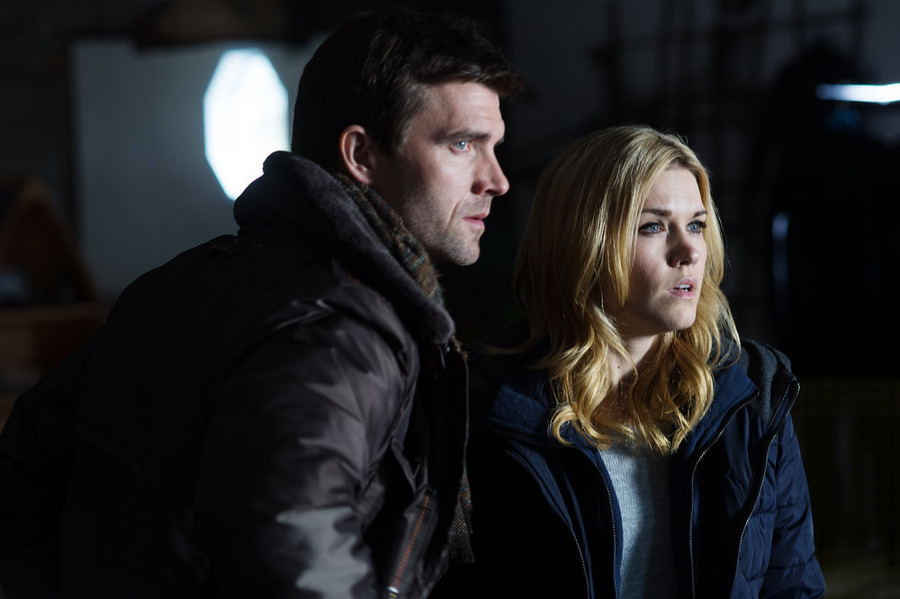 Spoiler alert! Don't read until you've seen the last episode of Haven …
It may have taken them five seasons multiple 27-year cycles, but the little town of Haven is finally a trouble-free zone—at least in terms of anything supernatural. But not everyone managed to find a happy ending. With so much going down in the Syfy show's series finale, we asked executive producers Gabrielle Stanton and Matt McGuinness to explain why each storyline wrapped up as it did —and to point out some hidden Haven Easter eggs.
A Walk (Into The Barn) to Remember
Audrey (Emily Rose) chose to enter the barn a second time as only her love for the town—and the people in it—would keep it safe from the Void, which was threatening to invade the world.
"It always felt like that's where it was heading. That there was something inevitable about her destiny, and having to go back and walk into that barn one more time," says McGuinness of Audrey's sacrifice. "We definitely knew we needed to see the barn again," says Stanton. "So much of this series has been about ending the troubles and figuring out how the barn works and all of that. We really wanted to explain everything at the end so you felt, 'Oh, okay. I see what they were working for in these past few years.'"
Turning A New Paige
As the series' final moments show, Audrey hasn't truly left Haven. Nathan (Lucas Bryant) runs into a woman having car trouble who looks surprisingly like Parker—except she's a young teacher named Paige who has a young son, James—who Stanton confirms is indeed the formerly deceased James Cogan (AKA the Colorado Kid).
"It felt like a way to demonstrate how special Audrey was relative to Nathan and how special their bond was, but still be true to the rules and mythology we set up," says McGuinness of why Audrey chose to come back as someone else and not her original self. "We allowed that 'couple of the ages' be together, but we put a little spin on it that protects the easy thing of letting them walk off into the sunset and not having to deal with all the challenges that they dealt with. They have to pay a little bit of a price, but that makes their connection that much more powerful."
Déjà View
If Paige and Nathan's meeting felt familiar, Stanton and McGuinness say it was all intentional—even down to the Captain & Tenille song that was also used in the show's pilot. "There were a lot of call-backs," notes McGuinness. "Everything from the song to having Nathan's hand slammed in the door, even some of the dialogue is very intentional. Hopefully it gives a feeling that, whether she's Audrey Parker or not, the entity that is Audrey Parker is what Nathan really connects with and he's going to re-connect with her again right down to their joint love of pancakes."
Daisies for Duke
In a moment of freedom from Croatoan's control, Duke (Eric Balfour) chose to die rather than let him have access to all the troubles he contained. "It was the most powerful way to end his character's arc," Stanton says. "[Duke] was always the loner. He was always the pirate, the one who wanted his own destiny. We liked the idea that he was able to sacrifice so much for his friends and for this town that in the beginning seasons he pretended not to care about. We felt like we were almost cheating his character out of an awesome ending if we didn't end up actually killing him."
A Little Belief… Goes A Long Way
While it may have seemed that Lizzie was fading away with the departing troubles, Stanton and McGuinness confirm that the young girl fishing with Dwight (Adam Copeland) in the end is indeed his daughter. "Our original intent was that the girl is his Lizzie, and that what Dwight has to do to keep her is believe in her with all of his heart. It's a little bit like that moment in Peter Pan."
A Teague of His Own
Audrey was eventually able to get through to her father, convincing Croatoan (William Shatner) to put aside his designs for revenge and help save the town by stepping into the barn with her—and Vince. So while Audrey Paige eventually returned to Nathan, the older Teague brother and his new companion were left to become barn-dwelling roommates of sorts. "They're still alive," says Stanton. "Croatoan is going to learn from his mistakes and become a better person and Vince is going to help along on that journey."
For those wondering what Vince's trouble turned out to be, Stanton says that it was his ability to find the lighthouse with the symbol that would open the door to the Void—that's why his tattoo swirled around.
Team Effort
As the troubles left Haven, we got brief appearances from a few familiar faces, including Jason Priestly's uber-likeable Chris Brody. But the show's writing staff, as well as a few producers, also made cameos.
"When you see the Mermen [who] are finally freed from having to live under water, that is by and large the writing staff of Haven, including me," says McGuinness. The names Office Stan reads out at the police station are actually the show's writers, while Stanton appears in the background of the pool party scene–she's the tall woman with the martini glass. And longtime viewers finally caught a glimpse of producer Stefani Deoul, who voiced Laverne the radio dispatcher over the show's five seasons.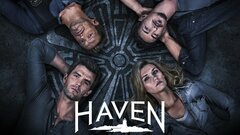 Haven
where to stream
Powered by