'Fargo' Creator Noah Hawley Answers: What Happened to Charlie Gerhardt?
Spoiler alert! Don't read further if you haven't watched the last two episodes of Fargo.
Bad news, Fargo fans. Creator Noah Hawley says the series, which ended its second season last night, won't return until fall 2017. So, to keep from falling into a pit of despair, we've been distracting ourselves with a little question: What happened to Charlie Gerhardt?
The Gerhardt crime family went out in a blaze of glory in front of a Sioux Falls motel during the penultimate episode of Fargo's second season. But they're not totally wiped out. Bear's (Angus Sampson) scion, Charlie (Allan Dobrescu), was last seen awaiting arraignment—with Karl (Nick Offerman) as his attorney—for the butcher shop brouhaha, but he missed out on all the bullet-ridden action.
RELATED: How Fargo's Music Supervisor Chose the Groovy Sounds of Season 2
But now that Season 2 is over, what of him? Here's what Hawley shared: "I think Charlie served about four years in prison and got out as the sole surviving Gerhardt and had to make a life for himself," he said. "On a lot of levels, he's left behind as the last man standing. But I'm sure he took a long hard look at himself and the fact that his nature, which is much more gentle, was in such conflict with his upbringing. If he's out there, I'd like to get a letter from him someday, telling me how he turned out."
So there you have it: one mystery solved!
Fargo returns in 2017.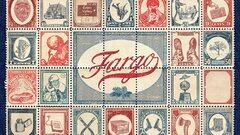 Powered by