'NCIS: L.A.' Fall Finale: Granger's Surprising Reveal, and What's Next for Callen and Sam
Spoiler alert! Don't read further if you haven't watched the fall finale of NCIS: L.A.
Clearly, the best part of NCIS: L.A.'s fall finale was when Deeks (Eric Christian Olsen) goes undercover in a Santa suit. (You can put back the holly, I've had my merry Christmas.)
But the episode's most shocking bit? When big boss Granger (Miguel Ferrar) interviewed a young Korean spy and whipped out a picture of himself in Southeast Asia…hanging out with her Mata Hari-esque mother. Turns out the last time that Granger saw mommy dearest, she shot him in the butt. Clearly, he and this girl have a lot of talking to do. So, what's their relationship? Will we ever find out?
NCIS: L.A. executive producer R. Scott Gemmell fed us a little scoop about Granger and the rest of the season.
How long have you been planning this surprise?
Not long. Granger has always been shrouded in a little mystery. We'd talked about exploring his past, kicking around this idea that he spent time in South East Asia. Then we were putting this episode together, and we had this female Korean spy. Suddenly, it was just like, "What if she had ties to Granger? What if he knew her mom?"
Will the plotline continue through the season?
Yes. In the next episode, we learn that Granger is escorting the girl to Washington, and our guys wonder why he would take such a personal interest in what just seems like a routine suspect. That's a hint that there is more there than what meets the eye.
Speaking of dark pasts, will Callen (Chris O'Donnell) continue the search for his real identity?
We just shot an episode where he learns what his name is.
We still don't know if Arkady (Vyto Ruginis), the man with some answers, is dead or alive, right?
That's correct.
I'm holding out for hope for "alive."
Everyone is. Especially Vyto. Arkady was supposed to be in one episode, but we loved Vyto. So we kept building on his relationship with Callen, and then we introduced his daughter, Anna [Bar Paly]. That'll play out in episodes 15 and 16. A big part of the remainder of the season is going to focus on Callen's story. We felt like it was about time to take that to the next level. There's an aspect of the plot that required us to have horses. It was a lot of fun getting LL Cool J. up on a horse.
What else is in store for Sam?
Before the season is out, Sam will face something that will challenge his abilities as a father, an NCIS agent and a former Navy SEAL.
That doesn't sound good for his offspring or his wife.
Exactly.
Another great part of the episode was Nell (Renée Felice Smith) and Eric's (Barrett Foa) "Toys for Tots" musical number. How did that come about?
Since Barrett and Renee are always dancing on set when we're not shooting, we decided we might as well have them dance on screen.
NCIS: Los Angeles returns on Monday, Jan 4.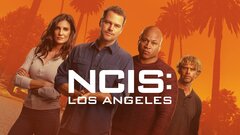 Powered by