'Galavant's Entire First Season Is Now Free on iTunes
Way back in days of olde, if you missed the airing of a TV season, you were out of luck. But thanks to the powers of bingeing millennials, times have changed.
That's why, as of today, the entire first season of ABC's addictive musical comedy, Galavant, is free to download on iTunes. That's eight half-hour episodes, for the low cost of absolutely nothing!
The fairy tale's first season follows the trials and tribulations of the dashing hero Galavant, who is determined to take back his life after an evil king steals his maiden. Each episode features inescapable earworms and guest stars like "Weird Al" Yankovic, Ricky Gervais and John Stamos.
Timothy Omundson, who stars as the villainous King Richard, shared the news on Twitter Monday afternoon.
You can now download all of #Galavant, Season 1 FOR FREEEEEE on iTunes! Do it! You know you want to. https://t.co/EOd1kTK0Xz

— Timothy Omundson (@Omundson) December 14, 2015
Hurry and catch up now—Galavant returns for its second season Jan. 3 at 8/7c on ABC.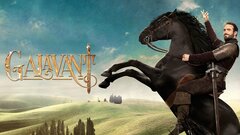 Powered by