'Barbarians Rising' Gets Green Light on History Channel
History is getting into bed with some seriously rough trade.
The network has given the greenlight to Barbarians Rising, described in a press announcement as a docudrama about "the rise and fall of the Roman Empire from the perspective of the barbarian rebel leaders" and tribes that "lived a brutish and violent existence." So basically imagine Vikings with less sex and more sandals.
The eight-part limited series, a global co-production between History and October Films, will showcase nine of the biggest names in the world of barbarism: Hannibal (sorry, #Fannibals, not that one), Spartacus (sadly not the nekkid kind Starz gave us), Celtic warrior queen Boudica; Germanic beast Arminus; Hun poster boy Attila; the Goths (who would totally rampage your local Hot Topic if they saw what passed for their namesake these days); and the Vandals (who would probably love to know that an '80s punk band borrowed their moniker). As it stands now, there is no word on why Conan the Barbarian didn't make the cut, but fingers crossed for Season 2!
Obviously, we know that the Roman Empire wound up falling apart (spoiler alert) but it should be very cool to see exactly how each of these badasses contributed to the collapse when the series premieres in 2016.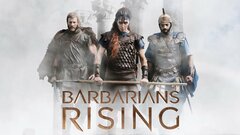 Powered by