Can Sherlock and Joan Survive Morland Holmes on 'Elementary'?
Could the legendary detective team of Holmes and Watson become Holmes, Watson and Holmes? While the idea of Sherlock (Jonny Lee Miller) solving cases not only with Joan Watson (Lucy Liu) but also with Morland (John Noble), the father he detests, seems implausible, that's exactly what happens on tonight's Elementary.
Morland's parenting style has always been high on chilly disapproval and lacerating wit. But despite Sherlock's protestation that his dad's presence in New York "is an irritant," Morland has decided to stay near his recovering addict son. "Sherlock must have been an incredibly difficult child," jokes Noble, who's played unpleasant patresfamilias and one evil 250-year-old son in a string of movies (The Lord of the Rings: The Return of the King) and TV series (Fringe and Sleepy Hollow). It isn't easy for this "man with immense wealth and immense power who lives above the rules" to make amends, Noble says, but the fixer for the rich and corrupt seems to be making an attempt.
Morland, who has secretaries of state on his speed dial, is drawn to Sherlock's criminal case this week when he quickly deduces that a gunman's vicious attack in a New York City park that killed three people is something very different from what it seems. He approaches his son with information about the shooter and, despite his reluctance, "Sherlock realizes that Morland has the connections to do what his son can't," the Australian actor says. "The possibility of them working together is an incredible breakthrough for the relationship."
But even if there's a father-and-son reunion of sorts, don't expect Morland to mimic the tearful sentiment voiced by Walter Bishop, Noble's popular Fringe character, to his estranged offspring: "You are my favorite thing." Noble says with a laugh, "That would be very wrong for this show."
Elementary, Thursday, Dec. 17, 10/9c, CBS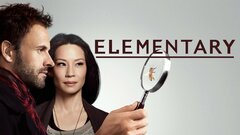 Powered by