'Finding Carter's Caleb Ruminer Talks Crash's Return and 'Dating Naked' (VIDEO)
https://player.waywire.com/?id=755FQV0WP69MBDNB
Caleb Ruminer's former bad boy Crash returns to MTV's Finding Carter this Tuesday (November 24) in an episode titled "The Heart Is a Lonely Hunter." In what capacity, we can't quite say, but he will interact with Carter (Kathryn Prescott) as she struggles with this week's reveal of Jared's (Jackson Rathbone) big secret.
Unfortunately for shippers, this isn't quite the reunion you might hope for. "They're really still just trying to stay away from being in a relationship together," he says. "Crash, I guess, still thinks that that's what would be best." He also added, "They don't have to be in a relationship, boyfriend and girlfriend, in order to care about each other."
Watch the video above to see Ruminer spill who the biggest pranksters on set are and talk about his short-lived addiction to VH1's Dating Naked.
Finding Carter airs Tuesdays at 10/9c on MTV.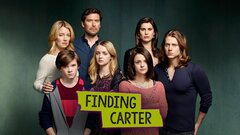 Powered by