What's Worth Watching: 'Elementary' on CBS for Thursday, November 12
Elementary, "Evidence of Things Not Seen," Thursday, Nov. 12, 10/9c, CBS
"You've made a mess, Sherlock. I'm here to fix it." With those words, the great John Noble introduced himself as imperious Morland Holmes, father of unstable genius sleuth Sherlock (Jonny Lee Miller), in the final moments of Elementary's season opener last week. His arrival could be the best thing to happen to this clever procedural in a long while, and in this week's episode, Morland's separate scenes with his distrustful son and the very curious Joan Watson (Lucy Liu) reveal the role to be a most welcome TV comeback for the Fringe scene-stealer (who was rather poorly used last season on Sleepy Hollow).
Morland insists he truly is on hand to help his difficult son after his heroin relapse, with the intent to get Holmes and Watson reinstated with the NYPD. But even when he insists he's proud of what his son has accomplished in his new home, all Sherlock can see are the strings he imagines will be attached to the goodwill offer. "There is always a cost," he mutters to Watson, who has her own doubts about the lengths the senior Holmes will go to on behalf of his family's interests.
While this very complicated relationship is being sorted out, an arc already so much more satisfying than the infamous "Kitty" debacle of a year ago, free agents Watson and Holmes are hired by a by-the-books FBI agent (The Knick's Jeremy Bobb) to look into a triple homicide in a research lab that may or may not be linked to Chinese espionage. The FBI suit warns them that as consultants they'll be on a fairly short leash, but we know better. Even with his daddy issues, Sherlock's still got it.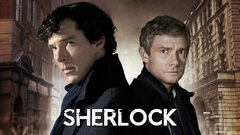 Powered by