'Hamilton' Star Joins 'Shadowhunters' Cast, More Episodes Arriving in 2018
Shadowhunters dominated Freeform's Sci-Fi Q&A block at New York Comic Con in Madison Square Garden with tons of news. The panel featured executive producers Todd Slavkin, Darren Swimmer and EP/director Matt Hastings and stars Katherine McNamara (Clary), newly minted series regular Alisha Wainwright (Maia), Isaiah Mustafa (Luke) and Matthew Daddario (Alec).
The sci-fi drama, based on the YA book series "The Mortal Instruments" from Cassandra Clare, released a sizzle reel previewing what's to come. Freeform also announced the series will be returning April 3, 2018, and to the shock and surprise of the EPs and stars attending the panel, was picked up for 10 additional episodes airing next summer!
See Also
Cast and producers were on hand at New York Comic Con to give fans a sneak peek at the new season of the Freeform hit.
And that's not where the news ends: two new cast members were also announced for Season 3. First, the upcoming antagonist, Lilith, will be played by Anna Hopkins (Defiance). "She's a phenomenally talented actress," Swimmer said, previewing that "she's just crushing it in these first few episodes." And who exactly is this big bad? "Sebastian (Will Tudor) is her child and her blood runs through Sebastian," Slavkin explained. If you've read the books, you'll know what he means by that. "She is so scary and so beautiful and so sensual." Hastings added: "She's coming for Jace. He killed her son and she's pissed." Yikes! That doesn't sound good.
The second bit of casting news includes Hamilton star Javier Muñoz, who is currently playing Alexander Hamilton in the award-winning show. But don't worry, he's not stepping down from Broadway anytime soon. "He's coming to the Shadow World and he is a major adversary to Mr. Magnus Bane," was all Slavkin could tease before showing a clip where the actor addressed the fans with his excitement.
Shadowhunters is currently shooting Season 3 and as Slavkin teased, "It's a darker tone, it's a more mature tone and it's awesome." Now we just have to wait a few more months for that awesome.
Shadowhunters, Season 3 Premiere, April 3, 2018, Freeform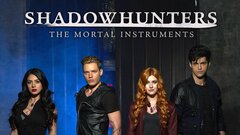 Powered by