David Copperfield Makes Magic With Animated Appearance on Disney's 'Doc McStuffins' (VIDEO)
Presto! Change-o! Magician David Copperfield will lend his distinctive voice to the November 2 episode of Disney Channel's Doc McStuffins (9am/8c).
His role: Demitri the Dazzling, a toy magician who has a not-so-dazzling situation on his hands. Seems Demitri's cute little bunny sidekick, Carrots, keeps running amuck and messing with all the magic supplies. But, as always, it's Doc to the rescue. The pint-sized medic conducts a thorough exam and discovers that Carrots has a broken spring and fixes it. Voila! The problem vanishes.
RELATED: Michelle Obama's Cameo on Doc McStuffins
Take a look at this exclusive clip below.
[jwplatform 7qMp522G]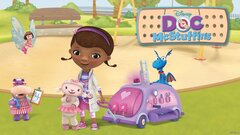 Powered by