The 6 Things About 'Gravity Falls' That You Need to Know (VIDEO)
Fans aren't the only ones who can't count down to Monday's episode of Gravity Falls. As revealed in an exclusive clip shown at New York Comic Con, it would appear that Mabel Pines has been counting down to the big day as well—especially seeing as it's the Pine Twins' 13th birthday. The episode is significant for another reason, as show creator Alex Hirsch has described it as "game changing," urging attendees of the "Gravity Falls Revealed" to watch it live. "In planning their birthday, some new revelations come to life and some interesting things happen." Hirsch also talked about the upcoming Gravity Falls book, Journal 3, and answered some fan questions. Here are some fun things we learned:
Journal 3 will reveal some long-awaited secrets. The 288-page hardcover book—which will be released in 2016—will feature the Author's (AKA Grunkle Ford) secret history of Gravity Falls as well as the notes Dipper made in it during the pilot. Hirsh also says that not only will fans learn about Fiddleford McGucket and who he was before he lost his mind, but it will also cover some mysteries of Billy Cipher that, up until now, only the Author has known. "You'll learn why there are red splatters on the page."
Some other questions that will be answered:
What the deal is with Dipper Clones 3 and 4.
What happened to Giffany.
What Dimension 52 is and why it's important.
The writers challenged themselves to make Pacifica likeable.Hirsch said he and the writers were surprised by the response to her character. "Pacifica was the worst in Season 1," said Hirsch. One of the writers came up with the idea to to make her a character the audience would care about. "We go to her house and learn about her. We didn't know if people would respond or not." Hirsch says that after the episode "Northwest Mansion Mystery," the Pine twins and Pacifica are confused to be feeling an emotion other than hate for each other. "In the aftermath of the episode, where there was pure hate, there is a tiny crack in the door of friendship between Pacifica and the Pines twins."
Hirsch is happy that the show was able to explore Soos and Grunkle Stan's relationship. "Soos never had any real family, and Stan had an awful relationship with his own family," said Hirsch of the pair finding each other in Gravity Falls. "Even though [Stan] acted like a tough jerk, he liked having a kid look up to him. Soos only sees people's hearts, he sees the best in everyone." Hirsch also revealed that fans will learn more about that relationship this season. "We will see more about what Stan means to Soos and what Gravity Falls means to Soos as the season progresses."
He knows exactly what a Gravity Falls Disneyland ride would be like. "Ideally, I imagine some kind of Mr. Toad's Wild Ride, with Gnomes chasing you and Bill Cipher after you." He'd also love it if there was an actual Mystery Shack selling overpriced merchandise—much like on the show—with an actual "Grunkle Stan" selling things. Hirsch says he'd even volunteer to do it. "I would shave the beard and dress as Grunkle Stan."
There's a little bit of Hirsch in each character—even Waddles. "Sometimes I lie on the floor and eat crumbs," joked Hirsch of Mabel's pet pig.
Bill Cipher doesn't have human origins. "He's possessed humans," said Hirsch. "[But] he never came from human form. He's older than humanity itself."
More News From Comic Con: Sneak peeks, panel reveals and what's ahead on your favorite shows
Watch an exclusive sneak peek of the Gravity Falls episode airing Monday at 8/7c on Disney XD.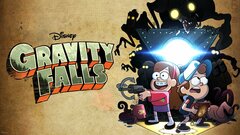 Powered by