First Look: LEGO Group Unveils 'Nexo Knights' TV Show, Minifigures and More
The LEGO Group is going on a new crusade. Thursday morning at New York Comic Con the toy giant revealed plans for its next original property, LEGO Nexo Knights. Hoping to duplicate the success of the company's hugely popular Ninjago franchise, this new line will include building sets, a TV series and a digital gaming app.
Nexo Knights is set in the Kingdom of Knighton, and "juxtaposes a timeless world of medieval knights with a futuristic twist in a captivating story," according to the LEGO Group's Casper Thingholm. Five young knights battle the Jestro, the king's jester who has stolen the ominous Book of Monsters from the wizard.
[jwplatform 3wz4OqCo]
Fourteen building sets will go on sale in January. The 20-episode animated TV adaptation could premiere as early as December, with a network partner yet to be announced. NYCC attendees can preview the toys and app firsthand this week, and we've got your exclusive first look at the minifigures for some of the main characters (which will be sold as part of the building sets):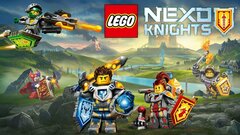 Powered by