'Comic Book Men' Returns With Wookie-Call Contest
Comic Book Men returns, and there are would-be wookies on the way.
Kevin Smith, Walt Flanagan, Michael Zapcic, Bryan Johnson and Ming Chen return for Season 5 on October 18 for more antics, pop culture podcasting and fanboy indulgence at comics store Jay and Silent Bob's Secret Stash. The season includes a contest for the best amateur wookie call—judged by none other than Chewbacca himself, Peter Mayhew.
[jwplatform zzFshJFP]
The show has also released the key art for the new season:
Comic Book Men, Returns Sunday, October 18, 12 midnight, AMC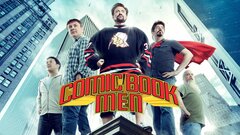 Powered by