Watch My Show: ABC Family's 'Startup U' is a Cross Between 'Shark Tank' and Hogwarts
ABC Family's Startup U is in the midst of its search for the next college-born startup company sensation. The series, taped at billionaire venture capitalist Tim Draper's Draper University in Silicon Valley, follows students as they pitch their ideas and angle for investment dollars. Twin brother producers Mike and Tim Duffy filled out our "Watch My Show" showrunner survey to explain why you should start up with Startup U.
I've got room in my life to watch just one more show. Tell me why it should be yours.
Mike: Because you have an idea for an app or a business and you want to learn how to launch.
Who should be watching?
Tim: People who love Shark Tank but don't like Mr. Wonderful.
What happens if we don't watch your show?
Mike: You will still be a nice person, just not as smart as people who watch our show.
What's the best thing anyone has said or written about your show?
Tim: Reality Blurred's Andy Dehnart said, "Startup U is the best of Shark Tank, Real World and a real-life Hogwarts."
What's the worst thing?
Mike: Where do I find that show Startup U?
Who was right?
Both: Andy Denhart.
What's an alternate title for your show?
Both: Tres Commas (if you watch Silicon Valley on HBO, you'll get this joke).
Give us an equation for your show.
Tim: Watching Startup U is like watching The Hunger Games give birth to a Unicorn while Beyonce gently nurtures the beauty of it all as the all-knowing mid-wife.
Come up with a premise for the spin-off.
Mike: Who Wants to be a Billionaire?
What credit of yours would you prefer we forget?
Tim: Manswers.
Tell me one thing about your cast.
Mike: We will all be working for at least one of them someday!
What other series would you most like to be an executive producer on?
Tim: Shark Tank, obviously!
Let's scare the network. Tell us an idea that didn't make it on to the screen.
Mike: Tim Draper actually scaling the side of his own 10-story building!
Finish this sentence: "If you like _______, you'll love our show."
Mike: If you like unicorns, you'll love our show.
Pick another show, any show, to start a fake feud with.
Tim: Shark Tank— bring it!
What other show would you like to do a crossover episode with—and how would that go?
Mike: Fear The Walking Dead—one of our students would create an app to destroy the zombies. And then the app would destroy the humans.
How will your show change the face of TV as we know it?
Tim: It's a really positive, informational show- there's a lot of that on TV right now! (Oh, and it's super dramatic too.)
Startup U airs Thursdays at 5/4c on ABC Family.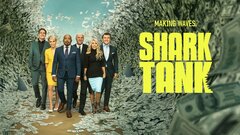 Powered by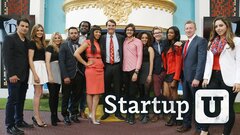 Powered by