Anti-Smoking VMA Sponsor Is 'Extremely Disappointed' Miley Cyrus Glorified Marijuana Eric Asche of the Truth Initiative, which ran two anti-cigarette smoking ads during Sunday's VMAs, says: "It is entirely understandable for viewers to be confused, after hearing so much about marijuana during the VMA broadcast, to see a powerful advertisement about the dangers of tobacco."
Watch Schumer react to Bush's video confusing Colbert for Schumer.
"I can't wait to hear what he's going to say next," she says of Trump. "He's one of the reasons I wanted back on The View."
"It's essentially seven shows happening simultaneously," Harris says of his NBC variety show. The preview shows what Harris has planned, including wearing a bearded disguise and playing a prank on former How I Met Your Mother co-star Cobie Smulders.
Says co-creator Adam F. Goldberg: "Now that we have two teenage girls as regular cast members struggling through high school wanting to find a boy who's like the ideal person — Christian Slater — it's opening up more stories and more of those pop culture references."
Listen to No Doubt About It, featuring Pitbull, and Ain't About the Money.
Hell join Frances O'Connor in the futuristic British genre drama Cleverman.
The Dude Perfect Show will follow the five pals, who've become viral sensations with their panda mascot, as they create their sports-themed videos.
The Sons of Anarchy alum will play a "powerful figure" as L.A. descends into anarchy.
Coming soon: Lab Rats: Elite Force.
Michael Leslie Bernback is accused of raping an unconscious person and is facing eight felony counts.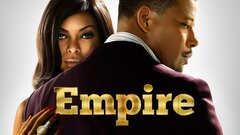 Empire
where to stream