'LEGO Elves' Brings Girl Power to Enchanting New Netflix Series (VIDEO)
LEGO's wildly inventive Elves line of playsets is going full-on fantastical in Netflix's upcoming anime series, LEGO Elves: Secrets of Elvendale. The eight-episode original cartoon, which premieres Sept. 1, centers on young heroine Emily Jones, who leaps through a portal to the mystical realm of Elvendale with her little sister, Sophie, a world filled with puckish elves, a Goblin King and, of course, his evil minions.
Here's an exclusive peek at the first two trailers for the series:
Secrets of Elvendale joins Netflix's already colorful stable of shows based on LEGO's Bionicle and Power of Friendship lines and is backed up by a collection of brick-building 'Elves' sets that first hit stores back in March. Just recently, three new sets were released, including Breakout from the Goblin King's Fortress and Rosalyn's Healing Hideout (which wins extra points for featuring a dragon).
Each set includes mini-figures of characters from Secrets of Elvendale, allowing young fans to literally play along with the episodes, which are all about young ladies banding together to save the day. Not to shade any other show set in a world of fantasy, but let's face it—the Stark sisters could learn a lot from this one.
LEGO Elves: Secrets of Elvendale premieres Friday, Sept. 1, Netflix.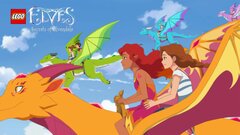 Powered by