My Obsessions: Reggie Watts of 'The Late Late Show With James Corden'
A stand-up comedian, Reggie Watts serves as announcer and house band leader on The Late Late Show With James Corden. We quizzed him about his own TV habits during his off-hours.
The device I watch on
Apple TV and Amazon Fire.
The funniest person on TV is
Broad City's Abbi Jacobson and Ilana Glazer. They are the same person and come from another dimension. That's why no one comes close to their superior comedic advantage.
What I eat while watching
I tend to eat sprouted almond butter and kombucha.
Who I watch with
Alone.
The show I miss most
Continuum. It's a sci-fi show with a lot of heart and intelligence. I love that it's a Canadian production because Canadians are awesome at weird stuff.
The show I'd like to guest star on
A cut scene of Cosmos: A Spacetime Odyssey because science is one of the only important things to see on TV.
My dream costar
Nikola Tesla. He was a wacky dude who created insane electrical monstrosities. Without him there would be no TV (probably not true).
My celebrity crush
Nathalie Emmanuel (Game of Thrones). She's willing to take risks, she's smart and she's British.
The only news show that matters
None of them. News is a distraction.
The Late Late Show with James Corden, Weeknights, 12:37am/11:37pm c, CBS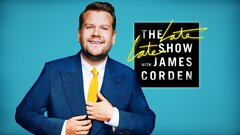 Powered by