Bones Season Finale Will Bring Back an Old Foe
If this season of Bones has taught us anything, it's that the past is never just the past. "Nothing ever really ends," says executive producer Stephen Nathan. "There are always ripples." So we've seen, in Booth's (David Boreanaz) relapse into gambling addiction; in how various Squints have dealt with the death of beloved coworker Sweets (John Francis Daley); and now in the looming specter of an old foe.
Serial killer Christopher Pelant (Andrew Leeds) will return in tonight's season finale—despite having been seemingly shot and killed by Booth last year. "It's not a flashback," promises Nathan. "And he's not a ghost. It's real." Pelant wreaked havoc on the lives of both Booth and wife Brennan (Emily Deschanel) by framing her for murder and breaking up the duo's engagement. However, Nathan says, fans worried that the Pelant story will shanghai the episode can take a deep breath: "The hour is not going to be all about him."
Pelant's reappearance comes as members of the Jeffersonian team are questioning their futures. After 10 years of murder solving, the natives are beginning to get a little restless— including Booth and Brennan, who are still struggling to reassemble their marriage, given Booth's setback. "This was the biggest emotional trauma they've faced as a couple," says Nathan, "so they're still feeling the effects of it." A life away from the Jeffersonian, and the FBI, might be what's best for them, for daughter Christine, and for their unborn baby. Could a major move be on the horizon?
"There are going to be big changes," Nathan confirms. Since the show hadn't been picked up for Season 11 when the finale was shooting (it has since been renewed), the writers decided to construct an episode that would serve as a satisfying series and season ender. Says Nathan, "It isn't a cliffhanger, but there is a cliff."
Bones, Season finale Thursday, June 11, 8/7c, Fox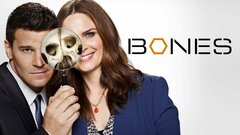 Bones
where to stream
Powered by