Exclusive: Soaps Great Frank Runyeon Makes a Heavenly Appearance on The Young and the Restless
His devilish good looks made him one of the most adored soap heartthrobs of the 1980s. Now former As the World Turns and Santa Barbara star Frank Runyeon is playing an angel—named Angel—on The Young and the Restless. The CBS soap is keeping details about this heavenly being under wraps for the moment. Could it be that another Genoa City resident is going to die? Or is a certain diva-in-distress in need of a life review? Could there be more to this "Angel" than meets the eye? We'll find out when Runyeon hits the air May 28 and is seen again June 2. In the meantime, we caught up with the man, himself.
Welcome back to the suds! You played a priest on Santa Barbara and a priest on Melrose Place. Now an angel. Is there a higher power at work here? I'm also on the road half the year with a series of one-man shows based on Scripture. I do the Gospel of Mark, Matthew, Luke, John—all of them. Before I went into acting I was a religion major, so the spiritual has always been there in my life and my work. At this point, I've probably played 2,000 different churches across the country and I love it. I meet so many wonderful people who have survived great difficulty and grappled with great tragedy. There are so many dimensions to those lives, and it's a side of America that is rarely reflected in the media. There's drama in my shows, of course, but also a lot of humor. People don't realize that there's a comic voice in Scripture, but there is. [For more information on Runyeon's appearances, go to runyeonproductions.com.]
It's been over 30 years since you and Meg Ryan got hitched as Steve and Betsy on As the World Turns—an event that drew 20 million viewers. How many in your church groups know your soap work? Surprisingly, quite a lot. When I do my shows, people will come up and say, "I remember you from As the World Turns. When did you start dying your hair?" Even my own mother asks me that! [Laughs] I swear, this is no dye job! When I walked into Y&R, [executive producer] Jill Farren Phelps said, "Wow, you look good!" And I'm, like, "What were you expecting—me in a wheelchair? I'm not that old!" Everyone still looks fantastic over there. Doing that show was like going to an alumni reunion. Peter Bergman [Jack] and I go way, way back. Christian LeBlanc [Michael] and I were on As the World Turns together. I knew half the people.
And you worked with Jill and [Y&R head writer] Chuck Pratt on Santa Barbara. Is that how you got this gig? Yeah. I'm L.A.-based and, apparently, they were looking for a guy who looks sort of Biblical and Chuck thought of me. I mean, who else is so stupid they'll walk around with a beard and long hair looking for a job in Hollywood? Me! [Laughs] I'm that stupid! And it's such an interesting thing to play an angel. I mean, how do you do that exactly? There are no rules, so I just sort of winged it. Hey, if Brian Frons could play God on Santa Barbara, I can certainly do this!
You're also writing a book called Escape From Hollywood: An Actor's Unlikely Journey to Faith. Do you really feel that you escaped? The book is about how you go from a life in daytime TV to doing what I do now. People don't write about traditional faith as part of the mainstream pop culture. It just isn't done. But the book is not about Hollywood being all bad—in fact, Hollywood tells stories better than anyone. It's about how one can go through Hollywood and keep on going, without getting stuck at the circus. You don't have to be on TV to be happy. The actors who don't know this will keep chasing fame and end up doing reality shows. I had a ball getting back into soaps with Y&R and reporting for work in the hallowed halls of CBS. It was really terrific. But now my life is about coloring outside those lines, and telling a much larger story. And I am having the most amazing time doing it!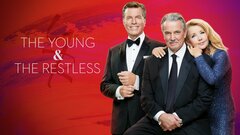 Powered by