Neve Campbell joins 'House of Cards' The Party of Five alum will become a series regular in Season 4, but her role is being kept under wraps.
Costner has passed on Kelley's legal drama Trial, which would have been the Oscar winner's first regular TV series.
They'll co-star in the adaptation of Cranston's Lyndon B. Johnson play All the Way.
After five episodes, ABC couldn't decide whether to cancel or renew the summer drama series.
Reeser won't play Taylor Townsend — she'll take on the role of Julie Cooper.
When Wilmore took the helm of The Nightly Show in January he lamented that "all of the good bad-race stuff happened already." Turns out, he was wrong. As Inkoo Kang points out, in recent months, "Wilmore has finally come into his own as a political authority after seeming to retreat from the position in earlier drafts of his show."
Based on early casting information, the CW series will introduce the lesbian vampire duo of Nora and Mary Louise.
Game of Thrones: Experience the Realm will feature an homage to Arya Stark. PLUS: Tennessee football coach gets his own version of the Iron Throne.
The creators of UnReal point out that the atmosphere of a reality show can induce Stockholm Syndrome in its contestants.
Tania Cardona claims she was overworked and the victim of racism in the Groening household. She's demanding millions in damages.
Episode 1 had 12 drinks, while Episode 2 had seven.

Degrassi: The Next Generation stars past and present reunite
They're spending this week filming It Goes There: Degrassi's Most Talked-About Moments.
Frances de la Tour will play Mother Hildegarde on Season 2 of the Starz series.
The horror anthology will take on the phenomenon of users generating horror stories that are passed around web forums.
The show based on James Patterson's novel about a group of animals banding together to fight humans is ridiculous fun, especially when it's serious. PLUS: Zoo is as easy as summer viewing gets, it has just enough of almost everything you could want, and Zoo's showrunner compares it to Hitchcock's The Birds.
The TV remake of the Scream movie franchise "isn't completely awful," says Matthew Gilbert. "It's just thoroughly mediocre, with a cast of actors who are generically pretty playing characters who are generic types…Plus, the attempts to frighten us are consistently wooden, lacking in the kinds of edgy camerawork and sharp timing that can build fear in the viewer." PLUS: It has a cinematic look what a perfect cast, Scream is a surprisingly strong addition to the franchise, it's a sheepish teen soap in wolf's clothing, and the acting is bland, robotic and uninteresting.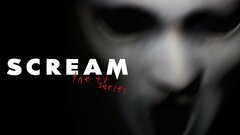 Scream
where to stream