Watch My Show: American Odyssey's Peter Horton and Adam Armus on Adrenaline, Conspiracies and Camels
You know Peter Horton as an actor (Thirtysomething) but he has also cultivated a successful TV career behind the camera in recent years, producing shows like Grey's Anatomy, Brimstone and Six Degrees, and directing episodes of series like The Shield. Now he's behind NBC's conspiracy thriller American Odyssey, along with Adam Armus and Kay Foster (The Following).
American Odyssey stars Anna Friel as Sgt. Odelle Ballard, who discovers while on a mission in the Middle East that a U.S. corporation is funding jihadists—a revelation that makes her a target. Peter Facinelli also stars. Horton and Armus answered our showrunner survey to explain why we should take this Odyssey. (Horton and Armus answered the questions jointly, except in the cases where their separate answers are listed.)
I have time to watch one more show. Why should it be yours?
Horton: Ever been to Mali? Camels. We have lots of camels.
Armus: You get three storylines for the price of one.
Who should be watching?
Adrenalin junkies, people who are afraid of the dark, people who like a little soap with their conspiracy thrills and really smart people.
What happens if we don't watch?
The bad guys win.
What's the best thing someone has said about your show?
"It's the best of cable on network television."
What's the worst thing?
"It's too good for network television."
Who was right?
NBC, for being wise enough to put it on their network.
What's an alternate title for your show?
American Iliad: The Sequel.
Give us an equation for your show.
Horton: American Sniper plus The Hurt Locker (if Jeremy Renner had a vagina) plus The Insider, multiplied by Dirty Wars, with a twist of Citizenfour.
Come up with a premise for a spin-off.
Three ordinary people stumble upon the same conspiracy, only to discover… the fox says nothing.
What credit of yours would you prefer we forget?
Horton: Do I have to choose one? Well, the worst thing I did was the very first thing I did, What A Year. I sang "Whenever I Call You Friend" with Rae Dawn Chong and with big hair. And the good news is, you can't find it anywhere.
Armus: My bar mitzvah.
Tell us one thing about your cast.
Horton: Omar Gazahoui, who plays Aslam, is a miracle. Tune in and you'll see why.
Armus: Everyone braved the cold, the heat, the desert and the snow, all for one show.
On what other series would you like to be an executive producer?
Horton: Pretty Little Liars, so my daughters (age 12 and 15) would actually care about what I do.
Armus: Any of the Law and Order editions. Residuals, baby.
Let's scare the network. Tell us something that didn't make it to air.
A character named "Hung Lo." No, it didn't work.
Finish this sentence: "If you like________, you'll love our show."
Epic adventures about ordinary people, who aren't cops, CIA or FBI agents, but who take down the bad guys anyway.
Pick a show and start a fake feud.
All the other shows with "America" in s title.
What other show would you like to do a crossover episode with?
The Voice. And the chairs would all spin around.
How will your show change the face of TV as we know it?
It's epic. People will want to use their big screens again.
American Odyssey airs Sundays at 10/9c on NBC.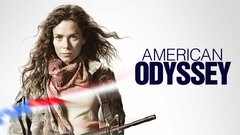 Powered by