The Roush Review: Game of Thrones and Outlander, A Tale of Two Epics
Read any great shows lately? Even for those who haven't picked up the fabulous (and weighty) page-turners on which th spectacular Game of Thrones and Outlander are based, these series remind us that few escapes are more satisfying than the immersive pleasure of losing oneself in a sweeping saga of fantastic adventure set in exotic worlds.
In the fifth season of Thrones, which conflates the bloated yet engrossing fourth and fifth volumes of George R. R. Martin's A Song of Ice and Fire novels, the thrill is somewhat tempered by a geographic and narrative sprawl so daunting that no single episode can service all of the show's fascinating people and locales.
By speeding up and simplifying the action, HBO's Thrones has begun to improve dramatically on its source material, clarifying the theme of power and its perilous responsibilities in a time when, as noble warrior Brienne (Gwendoline Christie) puts it, "The good lords are dead and the rest are monsters." No one is immune from making tough, treacherous choices: scheming Cersei (Lena Headey) in Kings Landing, dragon-loving Daenerys (Emilia Clarke) in Meereen, and earnest Jon Snow (Kit Harington), who contends with warring factions upon the icy Wall. It's a lot to digest but well worth the effort.
[jwplatform phaUD175]
Happily, the freshman season of Outlander (adapted from Diana Gabaldon's historical romantic fantasies) is still in its blissful honeymoon period, quite literally, and is tightly focused on the steamy and passionate relationship of 18th-century Scot Jamie Fraser (Sam Heughan) and his outspoken time-traveling bride, Claire (Caitriona Balfe), from 20th-century England. "I'm not the meek of the obedient type," Claire understates, because when these fugitives aren't ducking or fighting Redcoats, they're engaged in a ferociously entertaining battle of wills–often leading to makeup sex that could fog your windows.
[jwplatform GvdwmIWt]
Outlander, Saturdays, 9/8c, Starz
Game of Thrones, Sundays, 9/8c, HBO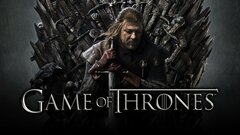 Powered by