Samantha Bee: Trump Made America Covfefe Again (VIDEO)
These are divisive times, to say the least. We don't have to tell you. But as Samantha Bee pointed out Wednesday night in the first new episode of Full Frontal since the Trump White House began to implode on itself, the president finally managed to unite the country, and all it took was a single…word?
Yes, "covfefe" brought America together.
Bee opened her show with a supercut of the cable news coverage of this momentous achievement, adding that, "For that glorious interlude between midnight and 5am, we were like the passengers on the Titanic who decided to say, f**k it, and rock out to the band."
The host chalked Trump's indecipherable late night tweet up to his magical mystery tour of the Middle East and Europe before going hard on everyone's favorite president-in-law, Jared Kushner.
Check out the full clip below.
Full Frontal With Samantha Bee, Wednesdays, 10:30/9:30c, TBS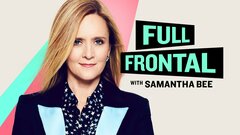 Powered by