What's Worth Watching: Secrets and Lies: Who Can It Be Now?
Secrets and Lies, "The Confession " (Sunday, March 29, 9/8c, ABC)
The last thing Ben (Ryan Phillippe) probably imagined after discovering little Tommy's murdered corpse was that he would wind up a prime suspect. The second to last thing he probably imagined? Having to strike a deal with weirdo Det. Cornell (Juliette Lewis) to keep his own family safe. But that is just where he finds himself tonight after the mystery stalker who has been harassing him steps up his (or her?) game and targets the rest of the Crawford family. But even with wife Christy (KaDee Strickland) and his girls under police surveillance, and buddy Dave providing him what he thinks is safe place to crash, Ben is going to find out that there is nowhere to hide from both his past sins and whomever seems to know too much about them.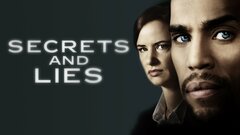 Powered by