'Days of Our Lives' Star Bill Hayes Replays His Awesome Life in a New Documentary
Who's cooler than this guy? Days of Our Lives' Bill Hayes—soon to turn 92 and the soap world's oldest player—is out with an astounding documentary about his life in showbiz. World by the Tail: The Bill Hayes Story tracks the beloved actor-singer from his early days in live TV, when he was a regular on the classic Sid Caesar series Your Show of Shows, to Days today—with a stop along the way to remind us he also had the No. 1 record in the country in 1955 with The Ballad of Davy Crockett. Mel Brooks, Carl Reiner, Shirley MacLaine, Elliott Gould, Shirley Jones and the late Florence Henderson are among those lovingly reminiscing about Hayes in the doc and the vintage clips are pure heaven. Even more heavenly: You can see it for free at billhayesmovie.com.
"It all started with my grandson, Dave Samuel, who wanted to put this together just for the family, so that my children, grandchildren and great-grandchildren will know what I've done," says Hayes. "But I'm so thrilled with the result, I want everyone to see it!"
See Also
The soap icon dishes on her character's newly discovered African-American grandson, her longevity in the business, and how she and husband Bill like to Netflix and Chill.
The project, directed by Lee Levin, required quite a treasure hunt. "So many of my early TV shows have vanished–no kinescopes, no record at all," says Hayes. "And, of course, all my theater work is gone with the wind. But I was amazed at how much material Dave and Lee were able to retrieve, especially from Your Show of Shows. Back when we were doing that series, they made three kinescopes of every episode. One set went to Sid Caesar, one to Max Liebman the producer, and one to the NBC archives. NBC burned the entire collection. Caesar got rid of everything but the sketches he was in, so that meant all my musical numbers were thrown out. Only Liebman kept the entire series."
World by the Tail is also a grand valentine to Hayes' many decades on Days—though he's scorchingly honest about his unhappiness with some of the writing!—and it includes interviews with Salem superstars Deidre Hall, Drake Hogestyn, Kristian Alfonso, Matthew Ashford and, of course, Hayes' costar and wife of 44 years, the great Susan Seaforth Hayes. You don't want to miss this.
Days of Our Lives, Weekdays, NBC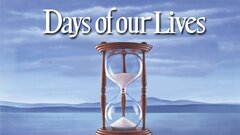 Powered by