Survivor Host Jeff Probst Reveals His Top Castaways
On every season of Survivor, there can only be one winner. But over the past 15 years, who has been the best of the best at outwitting, outplaying and outlasting? "We've had over 450 people play, and I don't think there's one person who is better than the other," host and executive producer Jeff Probst admits. So instead, to celebrate the premiere of the CBS reality juggernaut's 30th season later this week, we asked the four-time Emmy winner to name his standout castaways from the past 30 seasons and explain why. Did your favorite make the list?
Parvati Shallow (Cook Islands and Heroes vs. Villains contestant; Micronesia winner)
"I love Parvati because of the bold way she uses her greatest strength, which is despite the fact that I know she's going to flirt with me and make me think I am the only man in the room, she knows I will still fall for it. That is the power of a woman. And when you add to that Parvati's really keen strategic sense, as well as being her own physical threat to win, that makes her a pretty damn powerful player in a game like Survivor, which is a game like life."
Cirie Fields (Panama, Micronesia, and Heroes vs. Villains contestant)
"Cirie was literally the woman who was sitting on her couch watching Survivor and decided to stand up and say, "I want to play." Back when she first played, it was such a breath of beautiful fresh air because nothing about Cirie should be on Survivor. Never been out in the elements, was not in the greatest shape, but Cirie was good with people. I just love her attitude, but I wouldn't trust Cirie for a second in the game. Much like Parvati, she can seduce me with her charm."
Kim Spradlin (One World winner)
"Kim played one of the best games ever. Kim's biggest problem is that she dominated so thoroughly that it was a somewhat boring season. But she was so good that she didn't have any competition. I really loved watching Kim because she was dominating, yet playing it off as though she didn't even know where she was or what she was doing or who she was voting for, but she knew everything she was doing and was just hiding it so well."
Rob Cesternino (The Amazon and All-Stars contestant)
"We don't talk about him that much because it's been so long, but the truth is, nobody had ever played like Rob at that time and he was really good. He was the first super fan combined with being a really smart guy. And it doesn't surprise me the success he's having with his podcast because he's a really good thinker and he knows how to structure thoughts and ideas, which is a big part of Survivor."
Tony Vlachos (Cagayan winner)
"I really like Tony, but he is only here because of Russell Hantz. Tony doesn't play that kind of game without Russell paving the way. The difference is, Russell couldn't win. Tony did the same things Russell did. He cut people left and right, he had a bag full of idols and special tricks, but at the end, Tony did it with a charm that made people go 'dude, you kicked my ass,' and they said it with a smile on their face as they gave him the win."
Spencer Bledsoe (Cagayan contestant)
"I have a real soft spot for Spencer because we had a really rough beginning during casting. He was young, quite cocky, and full of himself, and I think he thought I didn't like him based on our interactions. But the truth is, I was just trying to get through to him that his lack of self-awareness is gonna get him kicked out. There was a day around 15 or 16 when I finally realized my relationship with Spencer was more father/son. He did know how to play this game, and I was really proud of him. I would love to see him play again."
John Cochran (South Pacific contestant; Caramoan winner)
"Cochran personifies what [executive producer] Mark Burnett said years ago, which was, 'one day, the least likely person will win this game.' And Cochran is the least likely person to ever win Survivor, hands down. He was a fish out of water, but when Cochran played the second time and you saw momentum and you realized he actually has a shot, then he starts winning at challenges, I did feel my heart start to skip a little bit like wow, this could be that season that Mark always talked about. I love Cochran, but I don't think he should play again and he probably won't."
"Boston" Rob Mariano (Marquesas, All-Stars, and Heroes vs. Villains contestant; Redemption Island winner)
"You can't have a conversation about Survivor without Rob. At first glance, you think he's that traditional blue collar Boston guy, but the truth is, he's that, plus a whole lot more. What impresses me about Rob is he really can do so many things. He can build you a shelter, but he can also build you a shelter that's gonna fall apart in seven days so you'll need him again. He really can win in a challenge, but he can also fake losing in a challenge that you feel so bad you can't vote him out. Rob can play on any level."
Sandra Diaz-Twine (Pearl Islands and Heroes vs. Villains winner)
"Sandra needs no explanation. Anybody who can win the game two times, you cannot critique their game, period. You can argue all you want, but the experienced people who played the game voted for Sandra. I just don't see any way you can take it away from her, even though people want to because Sandra doesn't play a game like anyone. She just hops along, says something lippy and the next thing you know, she's got the million. That's a strategy."
Survivor: Worlds Apart premieres Wednesday, Feb. 25 at 8/7c on CBS.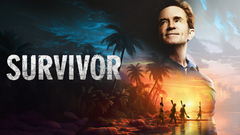 Powered by