Kidrobot Puts 'Bob's Burgers' in Your Pocket With Custom Keychains
If you need us, we'll be right here on the floor, dying. Because Kidrobot has 14 Bob's Burgers keychains and we want them all. Just look at 'em, Louise!
The vinyl 2-inch goodies—which feature mini versions of the Belcher family, as well as their eye-patched landlord Calvin Fischoeder, Teddy in his Halloween-episode tiger costume, a Burger of the Day board and the rare glow-in-the-dark Kuchi Kopi—come packaged in the always-mysterious Blind Box (so you never know what you're getting!) and retail for $5.99. If you're a baller, a case of 24 randomly selected keychains goes for about $144.00.
The Kidrobot Blind Box series of Bob's Burgers vinyl keychains is available (and awesome) online at kidrobot.com and your local comic shops.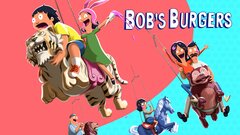 Powered by