Richard Dreyfuss to Play Bernie Madoff on ABC Richard Dreyfuss to play Bernie Madoff on ABC
He's set to star in a miniseries based on the book by ABC News' Brian Ross, The Madoff Chronicles: Inside the Secret World of Bernie and Ruth.
Roseanne Barr and The Bachelor Chris Soules are tipped for Dancing with the Stars
The new season of Dancing with the Stars may also include Robert F. Kennedy Jr. and Super Bowl hero Malcolm Butler of the Patriots.
Mama June and Honey Boo Boo are pitching themselves for a new show
The former TLC star and her family are in L.A. this week shopping a new show that would take on a Beverly Hillbillies theme.
Dule Hill signs on for CBS drama pilot Doubt
The Psych and West Wing alum will play a NYC defense lawyer.
To Dave Chappelle, Key & Peele is "Chappelle's Show-lite"
Keegan-Michael Key and Jordan Peele have acknowledged the influence "Chappelle's Show" had on their Comedy Central show, but how similar are the two shows?
TV Land speeds up Friends to squeeze in more ads, just as TBS does to Seinfeld
Speeding up TV reruns, which is accomplished by removing repetitive video frames, has actually been done for decades, says The Wall Street Journal, which notes that the practice has become more prevalent in recent years. "It feels wrong," Friends co-creator Marta Kaufman says of the sped-up episodes. "It is not how it was shot, written or imagined. It wasn't meant to be that way, so don't make it that way."
"Screech" admits he wasn't invited to Jimmy Fallon's Saved by the Bell reunion
Dustin Diamond's attorney previously said Diamond was too busy and had "prior commitments" for the Fallon reunion. But Diamond now admits he was never invited, only learning about the reunion from a friend of his girlfriend. "It would have been fun, but I don't see it as a personal insult," he says. PLUS: Mark-Paul Gosselaar welcomes his 4th child.
Seth Meyers details how SNL 40 came together
The Late Night host tells Bill Simmons in a podcast interview how almost nobody saw Bill Murray's Jaws performance before it aired live. PLUS: Norm Macdonald: We tried to get Eddie Murphy to do a Bill Cosby impression for Celebrity Jeopardy!
Read an oral history of Survivor
The CBS franchise kicks off its 30th season next week and will celebrate its 15th anniversary on May 31.
Tracy Morgan's lawyer says he's "really having a tough time"
The former 30 Rock star has been relying on a wheelchair, though he can use a walker, says attorney Benedict P. Morelli, who adds that it may be months before he can fully walk again.
Rockmund Dunbar goes from The Mentalist to NBC's Love Is a Four Letter Word
He'll play the male lead in a drama about a man's affection for two women.
Strike Back's Sullivan Stapleton" joins NBC's Blindspot
He'll play an FBI special agent who launches an investigation after Jaimie Alexander is discovered in Times Square with her memory wiped out.
Kerr Smith would be down for a Dawson's Creek reunion, as long as it's Fallon-style
"I don't think I'd be down for a reunion, reunion, though," he says. "I don't think any of the others would either. It's been too long."
Chelsea Handler wants her Netflix show to be like 60 Minutes — and unlike anything she did at E!
Handler says her Netflix show would be like a "faster, quicker, cooler" version of 60 Minutes with some inspiration from The Daily Show. "I know what I don't want to do and what I do want to do," she said today at the Code Conference. I don't want it to be just my audience that was at E!. I want to grow up."
Like many TV-watching couples, Molly Ringwald and her husband have a "co-binging" relationship
Ringwald and her husband will devote date-nights to binge-watching TV shows, with promises that neither will "go rogue" and watch solo. "We're pretty disciplined," she says.
Can The Mindy Project become the 1st sitcom to make a baby funny?
"The hard truth is that babies aren't funny," says Margaret Lyons, who worries that Danny and Mindy won't be able to hold a baby. PLUS: Mindy and Danny have become one of the most likable couples on TV.
Marisa Tomei signs a deal with HBO
Under the first-look development deal, Tomei will help produce shows for HBO and possibly star in one of them.
Tom Colicchio won't be doing for MSNBC what Anthony Bourdain does for CNN
"This is a very different show," the "Top Chef judge says of his new show Stirring the Pot. "This is a more in-depth discussion about food and food policy, the effect food has on the environment, the effects of hunger in the U.S. This is a lot more serious than a travel show about food."
Chris Harrison gives the odds on Bachelor couples having sex
"If I'm in Vegas and setting the odds, I'd go so low as to say 67 percent," he tells People. PLUS: Will Britt become "The Bachelorette"?
Triumph the Insult Comic Dog tells Conan the jokes NBC censored
Triumph wasn't allowed to speak ill of the Peacock while recently on Today.
The Situation shuts down his tanning salon
The Jersey Shore alum is accused of not paying his rent for the salon that opened less than a year ago.
Colin Quinn is joined by his comedian pals on web series Cop Show
The satire of police procedurals (watch here) stars the "SNL" alum and features a Jerry Seinfeld cameo.
Watch the trailer for VH1's Barely Famous
The reality show follows the daughters of a Grammy-winning producer as they hang around Hollywood.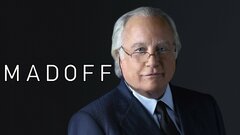 Madoff
where to stream
Powered by