'The Walking Dead': Melissa McBride on Carol's New Outlook and If There's Truly Just One Way
I knew it. But you knew it, too. We all suspected that Carol's (Melissa McBride) little cottage by the road was close enough to The Walking Dead's Season 7 action for her to find out just how not-OK the Alexandrians are—even after Daryl fibbed. Because we also know Daryl's ability to fib to Carol only goes so far. Like, nowhere. And in Sunday's episode, she got the real body count in a stunner of an episode. Not a moment too soon, since Michonne, our other once-ironclad lady warrior, seemed to go a little soft last episode. It's giving me the pinchies, along with Maggie being so damned MIA.
TV Insider caught up with McBride just before the second half of Season 7 debuted to beg a few hints about how long Carol could really keep herself in the dark. And if solitude would serve her well in the first place. McBride called Carol's self-imposed bubble not a means of escaping the world, but rather a way to regain her footing therein.
See Also
On the 'Bury Me Here' episode of 'The Walking Dead,' Morgan's mental stability is tested when a shocking betrayal costs two men their lives. Carol has a change of heart.
"When I think of where she's come from — with a controlling, abusive husband, and then being in a world like the apocalypse that is suddenly dictating how you have to survive, only one way to survive [see also: the Oh So Meaningful Street Sign in Sunday's episode]—I think there is a taking back her own control and saying, 'I want to get back to myself and understand what's going on here. Is there another way? I don't want anybody to tell me. I can figure this out by myself," she explained.
And now there is no escaping reality. It's what you do with that knowledge that counts. And where you fit into the bigger picture you cannot escape (Morgan! Gregory!).
"The bigger question is, how does each of those groups deal with facing the same situation with the different types of knowledge that they have?" McBride said. "There'll be more interactions with Carol and Morgan, talking about how we're just trying to understand their perspectives and how their points of view can fit into this world. Where is that happy place?"
McBride doesn't want viewers to rule out a happy—or at least happier—place, even though all signs point to an epic conflict.
"I hope people certainly don't get lost in just anticipating this big war," she shared. "There's so much more going on in the midst of all of that." Hence, our hearts leapt a little when we saw Carol return to the Kingdom and reveal her resolve to the one soul besides Morgan she knew would understand her grief at returning to war—then sit down beside an orphaned Henry and plant seeds of better days, even so. Poignant Walking Dead fun fact: The lad is played by Macsen Lintz, younger brother of Madison Lintz, who played Carol's doomed daughter Sophia. TWD feels.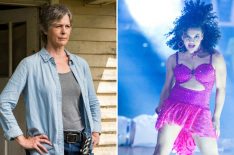 See Also
'Game of Thrones,' 'The Walking Dead,' 'Pretty Little Liars'—why can't we quit you?
McBride also pointed to the Maggie/Enid bond as further hope for the future and a passing on of wisdom that isn't all about firing a gun.
"There is so much potential for storytelling in that relationship," she said. "That's certainly a new aspect of Maggie that I'm enjoying seeing, given the circumstances she's endured, the loss [for Enid, too]. The idea that there is new life right there. As she loses one, she's carrying another. Even though we know that there is some sort of war on the horizon, there is still the feeling of hope. Just to see them all coming together and knowing that there is new life on the horizon there, it's just so…hopeful."
Carol's rejoining the Kingdom also delivers a long-awaited bonus for McBride herself—reunions with costars she hasn't seen in awhile.
"I miss my people," she chuckled. "But I'm also enjoying the new characters that have been introduced in the world that she's in, in the Kingdom. You're not shooting every episode, and then you see new faces and they've been here since the beginning of Season 7 and you haven't even met them yet. When you first get introduced, it's like, 'Oh, OK, you're that guy. Gotcha!'"
Still, Carol's solitude did equate with increasingly cozy fan interactions for McBride.
"It always goes really quiet," she laughs. "I'll be out somewhere and I'll see, in the periphery, somebody stop in their tracks. Then they turn away, and then they turn back with a cell phone in their hand. Then I'll look over at them, and they'll go, 'It's you, right?' I'll smile. Then they get really quiet and they whisper, 'Oh, my gosh, can I have a hug?' So we just have a really quiet hug. It's really sweet."
The Walking Dead, Sundays, 9/8c, AMC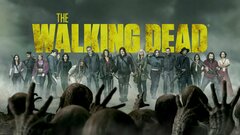 Powered by