Where Should 'The Walking Dead' Go From Here?
Warning! This post contains spoilers for the midseason finale of The Walking Dead.
Rick (Andrew Lincoln) has his big, big gun back and it's smiles all around at the Hilltop. After a rough first half of the season for The Walking Dead's core characters, fans and ratings, all the show's pieces are finally moving across the board in ways that could lead to some real payoff. Here are a few things TWD needs to do to keep some momentum and possibly reanimate some of those fallen viewership numbers when it returns for the second half of the season in February.
---
Get Everyone Together
Negan (Jeffrey Dean Morgan) had the major players lined up in the spotlight during the season premiere, but from there The Walking Dead sprawled out to the point that each episode could only catch up with a few characters at a time. Now that Rick has reunited with Maggie (Lauren Cohan) and Daryl (Norman Reedus), and the teaser for February's episodes indicates that they'll be going to the Kingdom together, the show seems to be on track to refocus its storytelling.
RELATED: The Walking Dead: Bigger World, Smaller Episodes
Bring on More Ezekiel
Speaking of the Kingdom, where has it been all this time? In the season's second episode, Carol (Melissa McBride) and Morgan (Lennie James) were introduced to the idyllic community and its flamboyant yet refreshingly reasonable leader, Ezekiel. Khary Payton's performance provided a much-needed infusion of self-awareness and unreserved goodness after the violence of the premiere, and it's a shame the front half of the season never made its way back around to him. Hopefully the midseason premiere will remedy this issue.
Give Carol and Morgan Something—Anything—to Do
Carol and Morgan are almost certainly the two characters who have changed the most during their time in the apocalypse, but for the past season, their development has halted and in some cases completely reversed. The battle of wits the two have been engaged in over killing or not killing, community or isolation, has gone on far too long, and it's time for at least one of them to do something that matters again.
Focus Less on Sanctuary and Negan
Daryl's detainment in the Sanctuary gave viewers a new perspective of Negan's home base, but little if any information actually came to light as a result. Everything viewers needed to know about the community's inner workings could have been saved for Carl's (Chandler Riggs) excursion in Episode 7, and following Daryl's imprisonment distracted from the emotional impact of other characters' reactions to the season opener's high-profile deaths.
Now that the "good guys" are coming together, it would make sense for the show to emphasize their perspective while returning Negan to the shadows for a bit. Jeffrey Dean Morgan's swaggering interpretation of Negan is, after all, much more intimidating, and less annoying, in smaller doses. Negan's torture and subjugation greatest hits have all been played and replayed, and now it's time to follow the heroes as they build up resources for an all out war.
RELATED: The Walking Dead: How Rick and Company Are Living in Negan's World
Keep Richonne Strong
Even characters who weren't separated by geography in these early episodes of the season were divided ideologically over the decision to serve instead of fight. The romance between Rick and Michonne is one of the few positive things going on in the post-apocalyptic D.C. area, and with everything else that's been built up, there's no need for the writers to continue to waste dramatic capital on relationship melodrama. If Michonne is meant to take the place of Andrea from the comics, this relationship should remain a pillar of stability in an unstable world.
Cool It with the New Communities, Please
There are plenty of characters to keep track of as things stand now. Thinning out some B-stringers like Spencer (Austin Nichols) and Olivia (Ann Mahoney) helps, but that tactic can only be taken so far. If we could also just forget about Tara's completely unnecessary tribe of warrior women by the sea, that would be great.
The Walking Dead returns Sunday, Feb. 12, 9/8c, AMC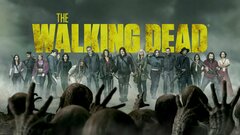 Powered by