What's On: The quest for freedom continues on 'Underground,' and 'Survivor' is back with its 500th episode
Underground (10/9c, WGN America): The legendary Harriet Tubman (Aisha Hinds) comes to the aid of the surviving runaway slaves known as the Macon 7, as the gripping historical drama returns for a second season. While John Hawkes (Marc Blucas) tries legal strategies to save the captured Noah (Aldis Hodge) from being sentenced to hanging, others including Rosalee (Jurnee Smollett-Bell) are determined to disrupt the system any way they can.
Survivor (8/7c, CBS): The pioneering reality competition achieves another milestone with its two-hour 34th-season premiere, which is also its 500th episode. The new season is billed as "Game Changers," bringing back 20 past players (and several winners) with a reputation for having advanced the show's game play with their aggressive and strategic tactics. May the best person win. But first, two legends target each other as the new battle begins, while others try to put the enmities of the past behind them.
black-ish (9:30/8:30c, ABC): TV's most adept practitioner of what might be thought of as cultural identity comedy finds a new subject for satire, when Bow (Tracee Ellis Ross) is shocked after trying to return a white "Girlstory" doll for a black one and learning how underrepresented dolls of color are on many stores' shelves. Dre (Anthony Anderson) blames the media, but as usual, learns he's not immune to his own prejudices.
Designated Survivor (10/9c, ABC): Hey, remember this show? Returning for a three-month hiatus, the political thriller will reveal who got shot on the steps of the Capitol in the winter cliffhanger. It probably won't be accidental president Tom Kirkman (Kiefer Sutherland), but the fallout will be further complicated by FBI Agent Hannah Wells (Maggie Q) debating whether to reveal what she's learned about who's behind the Capitol bombing.
Inside Wednesday TV: History's military action drama Six (10/9c) reaches the end of its first season, with the Navy SEAL team facing Michael and his jihadist soldiers. … BBCA America's period police drama Ripper Street (10/9c) begins its final season with Detective Inspector Reid (Matthew Macfadyen) coping with a personal loss, while pursuing a serial killer with ties to Scotland Yard. … Looking for CBS's Doubt? It has been pulled from the schedule, and starting this week, it will be replaced by the return of Criminal Minds spinoff Beyond Borders (10/9c), starring Gary Sinise as Unit Chief Jack Garrett, whose team heads to Tanzania to look into the disappearance of a 23-member church group. … Best news of the night: The essential political satire of TBS's Full Frontal With Samantha Bee (10:30/9:30c) is back from a short (but still too long) break, promising a critical look at the Justice Department.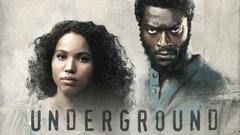 Powered by