Arrow Reveals First Look at The Atom's Costume (PHOTO)
If clothes make the man, then Brandon Routh is geekdom's version of a supermodel. After donning the world's most famous cape for the 2006 feature Superman Returns, the actor's now rocking another heroic look as his character, tech mogul Ray Palmer, takes one step closer to becoming the Atom by completing the Advanced Technology Operating Mechanism unit in the February 25 episode. Created in part to prevent crimes like the Deathstroke attack that claimed the life of his fiancée, Ray's long-in-development exoskeleton design will receive input from Felicity (Emily Bett Rickards). This leads to what Routh calls "an epiphany about the technology of the suit," eventually allowing Palmer to shrink himself down into his new superpersona.
Describing the intricate, multipiece ensemble as "pretty constricting when everything is loaded on; it feels like 15 to 20 pounds of added weight," Routh is as excited about debuting the Atom's look on screen as he is to be suiting up as a classic comic book character again. "I never thought I'd reenter the DC world as another superhero. A villain, maybe," he says. "Having played the pinnacle of all superheroes in Superman Returns, I didn't think I'd have that opportunity. But [the producers] sold me on their awesome vision of Ray Palmer and the Atom."
Unfortunately, that vision didn't include a cheat sheet for all of the tech jargon Palmer spews, because even Routh can't explain exactly how Ray's robotic creation works. All he knows is that "the suit is powered by a fragment of a white dwarf star, which is part of the Atom's origin story [in the comics] and is what allows him to shrink." That suits us.
Wednesdays, 8/7c, The CW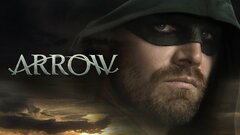 Arrow
where to stream
Powered by