Adam Pally on His Crazy Adventure Guest Hosting CBS' The Late Late Show
Somebody give Adam Pally (Happy Endings) and Ben Schwartz (House of Lies) their own talk show, stat. Pally guest hosted CBS' The Late Late Show on Friday night, and it was like nothing else the Eye network had aired in years.
Pally, who currently stars on Fox's The Mindy Project, brought along his buddy Schwartz — also known to audiences as Parks and Recreation's lothario Jean Ralphio — to serve as sidekick. Together, the two comedians acted like two guys who couldn't believe they had been given the keys to CBS for an hour.
Pally and Schwartz improvised their way through a satellite interview with NFL tight end Martellus Bennett (where the subjects included their favorite fonts) and an in-studio appearance by children's book author (and Howard Stern's wife) Beth Stern. Eric Andre, whose Adult Swim talk show may be the only thing more experimental in late night, also guested (and spun around in his chair most of the interview) and Death Cab for Cutie performed. Pally and Schwartz taped the show in New York on the CBS This Morning set, without an audience, making the hour even more deconstructed.
The Late Late Show continues airing with guest hosts until March 9, when new host James Corden takes over. But none of the upcoming hosts will likely have as much fun tweaking the form as Pally did. We asked him a few questions about the experience. (And we've posted video of the episode below that.)
TV INSIDER: How did you end up with the guest host gig?
Pally: One of the new producers for Corden's show is Nick Bernstein, who was one of the first people ever to notice me as an on-camera talent about ten years ago. He was at NBC late night under the Rick Ludwin regime. Nick is a great guy and you don't find truly good people that much in the TV business. We've kept in touch and worked together a few times since. I guess he just saw something in me that said, "He'll say yes when everyone else has said no. He maybe needs the money?"
TV INSIDER: What was Ben Schwartz's reaction when you asked him to be your sidekick?
Pally: My gut is first Ben didn't believe CBS would do that. So he had his people look into it, and they where like, "We're shocked too, but he is." And then Ben was like, "Will it hurt my career if it goes bad?" And his people were like, "No, no one cares, I don't think." So he texted me back in four hours flat after he checked with the "appropriate channels" like the solid friend he is and said, "I'll be there to watch this car fire from a front row seat."
TV INSIDER: He seemed game to come along for the ride, but also flabbergasted that you guys were actually doing this!
Pally: Ben is one of the best improvisers on the planet I knew he wouldn't have a hard time being funny for a couple hours without a script. Very few people can you say that about, Ben Schwartz without a doubt.
TV INSIDER: You mocked your performance, but there was something fun in watching the two of you improv this hour on nationwide TV. How do you think it went?
Pally: I think it was pretty much exactly what I wanted it to be. I kept joking with the really sour veteran TV crew not to think I didn't know what I was doing. I'd seen Wayne's World. But truth is that's the vibe I was kinda going for. Did I achieve that vibe? I don't know but it was Excellent! Schwing! Hi we're in Delaware!
TV INSIDER: Eric Andre is the king of deconstructing the talk show [via his Adult Swim show]. Did he play along?
Pally: Eric is hilarious and another good person even though he scared my grandmother. But there was nothing really to play along with. He kinda just came over to a weird TV studio and we hung out.
TV INSIDER: Is this something you'd like to do again? Or even full time?
Pally: I have given zero thought to doing it again, as I assumed no one would ever want me to. I don't know, it feels somewhat like once you do a talk show, then that's what you are. And some people are really really great at it.
I really like being an actor and working on different projects until they're done. I like the feeling of being finished with a piece. Sometimes it can be challenging to find that in the talk show format. But all that being said, Conan, Kimmel, Howard, Letterman, those guys are my idols, and there was something nice about just doing bits and talking to people. I don't know, maybe I'll change my mind at a certain point but it feels like it was really fun for one night.
TV INSIDER: Any feedback from CBS? Do you hope [CBS president/CEO] Leslie Moonves watched?
Pally: I know for a fact, Les did watch. How do I know? Les' brother is my lawyer, Jon Moonves. I texted Jon after the show, asking if Les watched, and he texted back right away, the next morning, saying "Sure pal, Les watched." So you tell me, if Les got his peepers on The Late Late Show when yours truly hosted.
Watch a YouTube video of the episode below: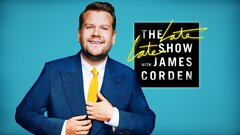 Powered by